Dear teens, helping strangers may boost your confidence and wellbeing. Here's how
In a first, a new study has linked prosocial behaviour in teenagers to self-esteem.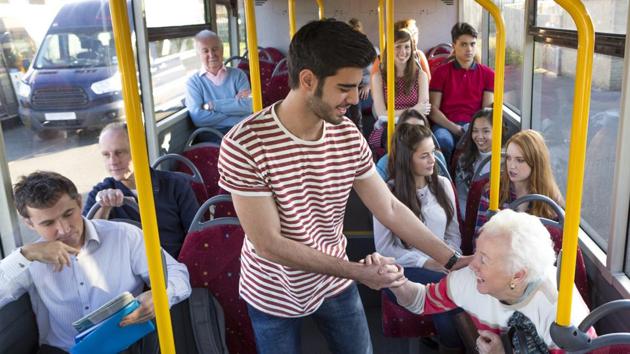 Updated on Dec 19, 2017 01:09 PM IST
Teens who selflessly help or share with strangers are more likely to have higher self-esteem a year later, according to a study.
Scientists at the Brigham Young University (BYU) in the US found that the same was not true for those in the study who exhibited prosocial behaviour solely to friends and family.
"This study helps us to understand that young people who help those with whom they do not have a relationship report feeling better about themselves over time," said Laura Padilla-Walker, professor at BYU.
"Given the importance of self-esteem during the teen years, this is an important finding," Padilla-Walker said.
"It suggests there might be something about helping strangers that impacts one's moral identity or perceptions of self in a more significant way than helping friends or family members, although these are beneficial behaviours as well," she said.
Previous research has shown that teens who exhibit these positive behaviours stay out of trouble and have better familial relationships. However, this is the first time that prosocial behaviour has been linked to self-esteem.
In the study published in the Journal of Adolescence, researchers looked at 681 adolescents, 11-14 years old, in two US cities. They tracked them for four different time points, starting in 2008 through 2011.
"A unique feature of this study is that it explores helping behaviours toward multiple different targets," Padilla-Walker said. "Not all helping is created equal, and we're finding that prosocial behaviour toward strangers is protective in a variety of ways that is unique from other types of helping," she said.
"Another important finding is that the link between prosocial behaviour and self-esteem is over a one-year time period and present across all three age lags in our study," she added.
"Though not an overly large effect, this suggests a stable link between helping and feeling better about oneself across the early adolescent years," Padilla-Walker said.
For many adolescents, this time of life can be confusing for them. In a state of such self-exploration and self- identification, researchers suggest that helping your kids find confidence, self-respect and self-worth can be of monumental importance.
"For teens who sometimes have a tendency to focus on themselves, parents can help by providing opportunities for their children to help and serve others who are less fortunate," Padilla-Walker said.
"It is best if teens can directly see the benefit of their help on others. This can increase gratitude in young people and help them to focus less on their own problems," she said.
Follow @htlifeandstyle for more
Close Story