Watch: Vitidsarn falls on knees after upsetting Viktor Axelsen in India Open final; Denmark star's gesture is priceless
Jan 22, 2023 05:06 PM IST
Kunlavut Vitidsarn produced an incredible performance on Sunday as he defeated Viktor Axelsen in three games to win the Indian Open title.
Kunlavut Vitidsarn produced an excellent performance on Sunday to defeat Viktor Axelsen in the final of India Open. In a three-game match that lasted 63 minutes, Vitidsarn won 22-20, 10-21, 21-12 to win his maiden Super 750 title; he also became the first player to beat Axelsen this year. The Danish World No.1 had earlier defeated Kodai Naraoka in the final of the Malaysia Open last week.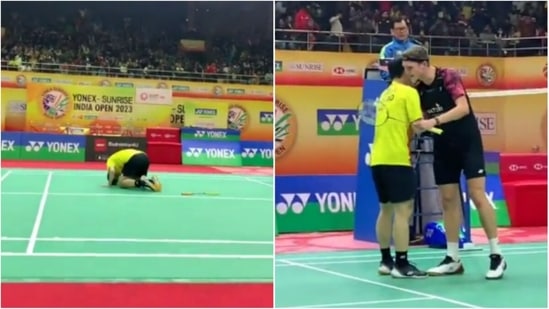 Vitidsarn produced a stunning outing at the KD Jadhav Indoor Hall in New Delhi, edging past Axelsen 22-20 in a thrilling first game. The Denmark shuttler was on game point as he was leading 20-19, but the Thailand-born shuttler took three successive points as the crowd roared on Vitidsarn's fightback.
Axelsen, however, reverted to his attacking game at the change of ends, producing an exhibition of smashes similar to the semi-final against Jonatan Christie, as he made easy work of the 21-year-old Vitidsarn. The youngster, however, tweaked his strategy a little to engage Axelsen in rallies and eventually grabbed hold of the World No.1 shuttler, as the latter began to feel the heat.
Watch the moment as Vitidsarn produced an upset to a thundering support from the crowd in New Delhi:
Earlier in the day, another world no.1 – Akane Yamaguchi of Japan – faced a three-game defeat in the women's singles event at the India Open. South Korea's An Se Young, who shares a healthy rivalry with Yamaguchi, edged past the Japanese shuttler to secure the title on Sunday.
In the men's doubles final, the Chinese duo of Liang Wei Keng and Wang Chang came out as the winners after seeing off star Malaysian third seeds Aaron Chia and Soh Wooi Yik 14-21 21-19 21-18 in the final for their second World Tour title following the triumph at Japan Open last year.
The other two doubles matches didn't happen following two withdrawals, both featuring Chinese pairs, on the final day of the tournament due to ill health.