Hockey World Cup: Germany, Belgium set up a final date
Jan 27, 2023 10:52 PM IST
The Germans came from behind to beat Australia while the Belgians did the same to the Dutch
Germany and the final two minutes. They have now made it a habit.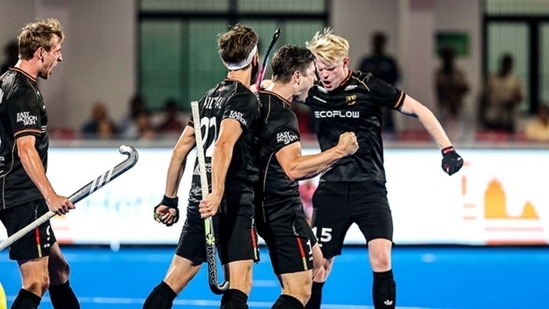 Down 0-2, two minutes from the final hooter. All but out in the quarter-final against England. The two-time bounce back to score two goals in a couple of minutes to push the match into a shootout and win 4-3 on penalties.
The story was no different on Friday. Down 2-3 in the 58th minute, all but ready to exit the World Cup in the semi-finals, the German machine fought back in their typical style to score two goals to oust world No 1 Australia and qualify for the first final since New Delhi 2010.
It was a sensational comeback from Germany who first equalised after being 0-2 down at half-time. Australia's 58th minute goal looked like it would seal the contest between the two teams but drag-flick great Gonzalo Peillat scored his hat-trick at the opportune moment before Niklas Wellen scored the winner with only six seconds left.
Jeremy Harward (12th), Nathan Ephraums (27th) and Blake Govers (58th) scored the three goals for Australia, who were looking for their title since 2014. Peillat (43rd, 52nd, 59th) starred with a hat-trick for his adopted country before Wellen's (60th) winner. Peillat was the highest goalscorer for Argentina in the 2016 Rio Olympics when the South Americans won gold before switching nationalities last year.
"Our on-ball game today was unbelievable. We didn't concede any counterattacks because of our ball-possession game and created many circle entries. Those two things were the biggest differences compared to Tokyo," said Germany skipper Mats Grambusch, referring to their bronze playoff loss to India in the Olympic Games.
"We were too polite in the opposition striking circle (in the first half). There were too many chances which we just didn't take. We just got to be straightforward in the 'D', hit it towards the target. That's what we didn't do well in the first quarter. We knew Australia are going to be strong, tough and athletic. We stepped back a little too much. That's something we did change."
Germany will take on reigning world champions in Sunday's final after Belgium beat the Netherlands 2-2 (3-2) in a penalty shootout in what was a repeat of last edition's final here at the Kalinga Stadium.
Dutch Jip Janssen scored the opener in the 12th minute before Belgian drag-flicker Tom Boon (27th) equalised before half-time. Janssen put the Oranje ahead again in the 36th minute before Nicolas de Kerpel scored the only field goal of the match to level the contest for Belgium. Belgium goalkeeper Vincent Vanasch ensured that Belgium entered the summit clash.
Reigning world and Olympic champions Belgium have shown incredible consistency, having now reached the finals of the last two World Cups and Olympics each.