'There's nothing wrong with it': Dutee first athlete to admit she's gay
Chand, who was at the centre of a lengthy international gender row, said she had been in a relationship with a 19-year-old woman from her village for four years.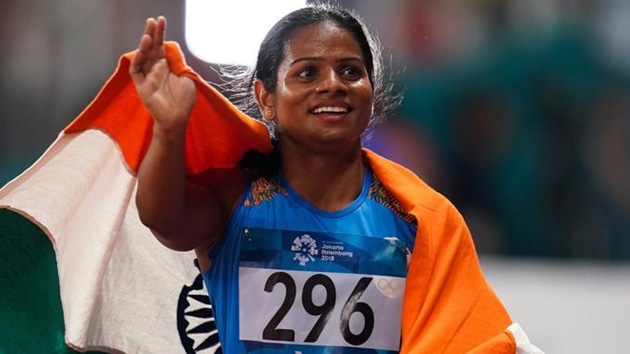 Updated on May 20, 2019 10:32 AM IST
India's fastest woman Dutee Chand revealed on Sunday that she is gay, becoming the first athlete from the socially conservative country to do so, and adding she feared being ostracised by her family after the admission.
Chand, who was at the centre of a lengthy international gender row, said she had been in a relationship with a 19-year-old woman from her village for four years. "I am in a same-sex relationship and I don't think there is anything wrong in it," the 23-year-old said.
"For the moment, my focus will be on my career with the world championships and Olympics coming up. In future after the end of my sporting career, if my heart says that I should stay with her then I will," Chand said.
A 100m national record holder, Chand said she feared social ostracism — including at the hands of her family — while her parents have not yet raised any objection to her relationship, her eldest sister has threatened to not only expel her from the family but also send her to jail.
"My eldest sister kind of wields power and authority in my family. She has thrown out my elder brother from home because she does not like his wife. She has threatened that the same will happen to me. But I am also an adult who has individual freedom. So, I decided to go ahead with this and make it public," the athlete said.
"My eldest sister feels that my partner is interested in my property. She has told me that she will send me to jail for having this relationship," she said.
Dutee said her partner is free to marry whoever she wants to if she decides to do so in future.
A landmark judgment of the Supreme Court last year had decriminalised gay sex between consenting adults. This, she said, had given her the courage to speak out.
While Chand refused to name her partner, she said, "My partner also agreed that we should make this public and face whatever repercussions it may bring to us. I believe in individual freedom and right to decide how and with whom I will live my life."
She said another reason for coming out was that she did not want something which happened with sprinter Pinki Pramanik, who was accused of rape by her live-in partner.
Pinki was a member of the 2006 Asian Games 4x400m relay gold winning team. "We did not want this kind of situation happening in future," Chand said.
Chand, who was born in Chaka Gopalpur village at Jajpur district of Odisha, was forced to undergo humiliating gender testing as a teenager. After being diagnosed in 2014 with hyperandrogenism, a condition which produces high male sex hormones, Chand was barred from competing under International Association of Athletics Federation (IAAF) rules. She won the case against the IAAF in an appeal to the Court of Arbitration in 2015 and she was allowed to compete after being banned for one year. The CAS suspended the IAAF's policy on hyperandrogenism for two years.
Later the world body changed the policy, which is applicable only on female athletes competing in the range of 400m to 1500m, leaving out Dutee, who competes in 100m and 200m, from its ambit.
Social media users lavished praise on the athlete following her announcement on Sunday, with many singling out her bravery.
"It takes tremendous strength to come out in public. More strength to you #DuteeChand! You are and will always be a champion," one user said on Twitter.
Close Story