Winning WTA Finals is as tough as winning a Slam: Sania Mirza
Updated on Oct 28, 2014 02:53 AM IST
After nerve-wracking matches throughout the week in the WTA Finals, Sania Mirza and Cara Black ended the season in the perfect way possible - as the best women's doubles team in the world.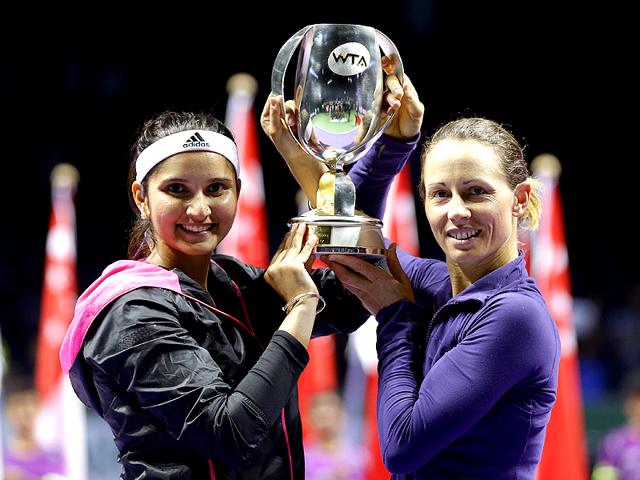 An unforced error had cost them the first match point. They weren't ready to let go of the second. As Cara Black jumped up and smashed a volley down the centre, Sania Mirza leaped with joy at the back of the court.
After nerve-wracking matches throughout the week in their maiden appearance at the WTA Finals in Singapore, the Indo-Zimbabwean duo literally steamrolled the defending champions to end the current season in the perfect way possible - as the best doubles team in the world.
Prime Minister Narendra Modi was prompt to congratulate her on Twitter.
"Congratulations to @MirzaSania for the victory in WTA finals. This is yet another proud accomplishment!" Modi tweeted.
Busy after win
Sania had been busy with interviews right after the match. The voice portrayed a hint of tiredness but the joy was unmistakable.
"Cara's the party planner so she'll be making the plans," Sania said, back in her room after they thrashed Hsieh Su-Wei and Peng Shuai 6-0, 6-1 on Sunday evening.
The funny thing about the final was that Sania played against her doubles-partner-to-be. With the Black-Mirza partnership coming to an end, the 27-year-old will pair up with Chinese Taipei's Hsieh in 2015.
"I'm not thinking that far ahead but the aim is of course to be back in Singapore next year," said the three-time Grand Slam mixed doubles champion.
But it was the 'perfect way' to end the journey with Cara. Sania's first season focused solely on doubles was 2013. Later that year, she teamed up with the 35-year-old Zimbabwean and the partnership worked like magic, winning the titles in Beijing and Tokyo.
Cara even came to train with Sania in the off season. But now she's decided to slow it down and thus the break. There's no doubt how great the season has been for Sania.
Three wins with Cara on the circuit, the US Open mixed doubles crown with Bruno Soares, the Asian Games gold with Saketh Myneni and now world champions. She's in fact, the first Indian to have won the year-ender as doubles specialists Leander Paes and Mahesh Bhupathi had always fallen in the final hurdle.
Tough outing
"Winning here is almost as tough as winning a Grand Slam. You have the top eight teams playing so you better be ready from the word go. In fact, we played against opponents who've never lost in a final," Sania said. Hsieh and Peng's record in finals was 12-0 with two Slams and last year's WTA finals. But that changed on Sunday.
"We saved the best for last," Sania concluded.

Close Story
Personalise your news feed. Follow trending topics