In bitter end to 80-hr rescue, Sujith found dead in borewell
Sujith Wilson's body has been taken out by the National Disaster Response Force and State Disaster Response Force and his body is being sent to hospital for autopsy, after he which he would be handed over to his parents, said officers.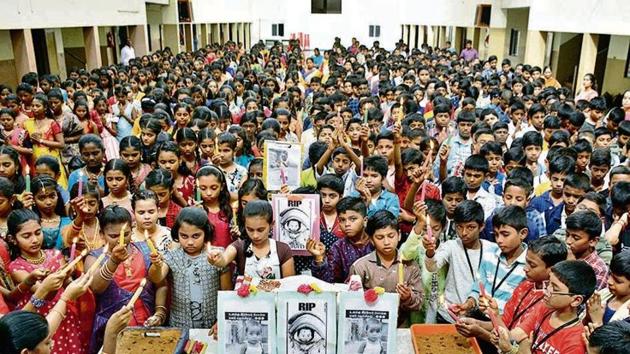 Updated on Jul 15, 2020 06:53 AM IST
Hindustan Times, Chennai |
M Manikandan
After an 80-hour operation involving about 800 personnel, rescuers on Tuesday retrieved the partially decomposed body of a two-year-old child who fell into a borewell in a Tamil Nadu village, bringing to a tragic end an incident followed on TV screens across the country by people concerned over the toddler's safety.
The news of the child's death prompted the Madras high court to pull up the government over the poor implementation of civic safety rules, and ask if it needed a corpse to enforce guidelines.
Sujith Wilson's body was pulled out more than three days after he fell into the abandoned borewell while playing near his house at Nadukattupatti village in Tiruchirappalli district on Friday.
Watch: 2-year-old stuck in borewell found dead after 75 hour long rescue operation
"The government made all efforts to rescue the two-year-old. Unfortunately, the boy died, and it is a very heart-wrenching incident for me. I urge the landowners to close abandoned borewells immediately. A government order was passed in 2015... So, district collectors should ensure that everyone adhere to the rules," chief minister K Palaniswami said.
Palaniswami, deputy CM O Panneerselvam and other state ministers visited the bereaved family and offered their condolences. The CM also announced a compensation of ~20 lakh for the family — Rs10 lakh from the Chief Minister's Relief Fund and Rs10 lakh from the ruling All-India Anna Dravida Munnetra Kazhagam's funds.
"Even as the government made several efforts to rescue Sujith, we observed a decaying smell from the 600-foot borewell in which he was trapped," Tamil Nadu revenue administration, disaster management and mitigation commissioner J Radhakrishnan told the media.
Tiruchirappalli district collector S Sivarasu said, "Since it was more than 80 hours since he was trapped there the body was almost in a decomposed state."
Wilson's parents buried him in a funeral conducted by the local parish priest at a nearby graveyard around 8.30am, about four hours after his body was pulled out.
Rescuers tried to dig a parallel tunnel, which would connect the borewell through a hole made sideways, but the rocky terrain made the task difficult. Attempts to use robotic devices to lower ropes to latch onto the boy's wrist failed on Saturday. A thermal camera had been used to monitor the child's temperature while oxygen was supplied through a pipe.
Initially, the child was stuck at a depth of about 30 feet but subsequently slipped further down, and the body was finally pulled out from a depth of 88 feet, officials said.
Hours after the incident, the Madras high court orally observed whether the government needed a "dead body" for implementation of each and every rule.
A division bench of justices M Sathyanararayanan and N Seshasayee was hearing a petition seeking a direction to authorities for strict implementation of guidelines issued by the Supreme Court, and for the enforcement of the Tamil Nadu Panchayats (Regulations of Sinking of wells and Safety Measures) Rules 2015.
The plea was filed by V Ponraj, a scientist who had worked with former president APJ Abdul Kalam at Rashtrapati Bhavan.
In oral observations, the court also said the media was not streaming anything constructive in creating public awareness on the implementation of rules and regulation on borewells and tube wells, but doing live coverage on the rescue operations that eventually ended on a tragic note.
The court directed civic authorities to produce details on the action taken against violators who had failed to comply with the conditions stipulated for digging borewells and tube wells, and set November 21 as the next date of hearing.
Wilson's death was the latest in a series of incidents of children falling into borewells in Tamil Nadu. According to a report in news agency Press Trust of India, at least 13 children have fallen into unused borewells in the southern state, and just three of them were rescued alive over the past 15 years. Wilson's fall into the borewell was the third such incident since April 2014.
Tamil Nadu's opposition Dravida Munnetra Kazhagam (DMK) criticised the government after Wilson's death. "The boy died due to the negligence of the Tamil Nadu government... If the government had approached the issue only with experts and without the interference of ministers, Sujith could have been saved," said DMK president Stalin.
Congress leader and Wayanad parliamentarian Rahul Gandhi tweeted, "I'm sorry to hear about the passing of baby Sujith. My condolences to his grieving parents and his family."
Before leaving for his Saudi Arabia trip, Prime Minister Narendra Modi had on Monday expressed his hope that Wilson would be rescued. "My prayers are with the young and brave Sujith Wilson. Every effort is being made to ensure that he is safe," the PM had said then
Close Story
Personalise your news feed. Follow trending topics