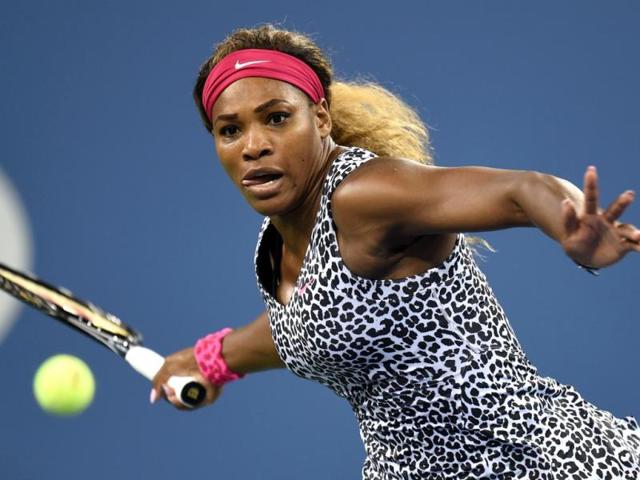 After US Open win, Serena targets next Grand Slam
Just three hours after securing the US Open trophy, her 18th Grand Slam title, Serena Williams soaked up the accolades and applause and then admitted that she was already thinking about number 19.
UPDATED ON SEP 09, 2014 03:20 AM IST
Serena Williams allowed herself a moment to savour a third straight US Open win on Sunday, but only a moment.
Just three hours after securing her 18th Grand Slam title with a dominating 6-3 6-3 win over Denmark's Caroline Wozniacki, the world number one soaked up the accolades and applause and then admitted that she was already thinking about number 19 and third spot on the all-time list now held by Helen Wills Moody.
"I am thinking 19," said Williams, who shares fourth on the list with Chris Evert and Martina Navratilova. "Hasn't even been three hours and I have already mentioned 19. Oh, gosh, but not 22.
"I'm taking it one at a time."
Williams will celebrate her 33rd birthday later this month and clearly has plans to celebrate many more Grand Slam titles as she climbs further-and-further up the rankings.
Moody, at number 19, is the next target but just ahead sits Steffi Graf on 22 and just ahead her is the great Margaret Court who tops the list with 24.
Until Sunday it did not look as if Williams would add to her Grand Slam haul this season.
She had added five tournament titles to her collection this season, coming into the US Open with her career total at 62, but at the Grand Slams she had fallen flat, failing to get beyond the last 16 in any of the first three majors.
However, if there was any thought that Williams' career was on the decline she erased it with a stunningly ruthless performance, confirming herself as the Queen of Flushing Meadows.
In claiming her sixth US Open and third straight, Williams did not drop a set and never lost more than three games in any of them, capping off her run to the title with a ruthless 75 minute demolition of her one of her best friends to the delight of her fans who packed Arthur Ashe Stadium court.
"I just could never have imagined that I would be mentioned with Chris Evert or with Martina Navratilova, because I was just a kid with a dream and a racquet," offered a humble Williams. "Living in Compton, this never happened before."
And this was just the beginning, not the end, she said.
"I want to do really well and I love the game," Williams added.
"The reason I play is to sit at the end of the day and hold the trophy or stand and hold the trophy. For me, that's my joys.
"I'm just a simple individual who just wants to win titles and wants to play tennis."
Williams' rise from the Los Angeles ghetto to top of her sport is a tennis fairytale and despite describing herself as a "simple" woman, those who have faced her on the court understand that she is something quite exceptional.
"I don't believe that talent can beat everything," said Wozniacki, who leaned on Williams for support after golfer Rory McIlroy broke off their engagement just before the French Open.
"She works hard every day, just like us, but when she needs to she can pull out that big serve. She has the power.
"She can push us back on the court and take the initiative. She definitely has the experience now, as well... and it makes it even harder to beat her.
"I think her results and her career says it all: 18 Grand Slam titles.
"You don't get that unless you're exceptional in what you do."
After nearly two decades of amassing records and titles Williams is still driven by the pursuit of excellence and the thrill of victory.
This marks a record 15th straight year Williams has won at least one singles or doubles Grand Slam title and with her win on Sunday she became the second woman in the Open Era to win three consecutive US Open titles.
Next year she will return to Flushing Meadows looking to match Evert's record of four set from 1975-78.
Although she has considerable accomplishments to reflect on, Williams says it is not something that her and older sister Venus, a double US Open champion, dwell on.
And it is not a conversation they plan on having for some time.
"I think we'll have those conversations when we retire, and hopefully that will be a long time from now," said Williams. "Right now we just really want to be in there.
"We want to win matches. We want to win titles. We want to do really well. We just don't talk about that right now.
"I want to continue to rise and continue to play really hard and do the best that I can."

Close