Latest from chabahar port
Jaishankar said India has committed a total grant assistance of $85 million and a credit facility of $150 million for developing Shahid Beheshti terminal.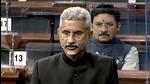 Published on Dec 11, 2021 12:30 AM IST
Tashkent Uzbekistan will push ahead with a joint plan with India and Iran to promote connectivity through the Chabahar port, as part of the country's efforts to improve and diversify access to sea routes for trade, senior Uzbek officials have said


Updated on Oct 25, 2021 02:24 AM IST
Minister of State for External Affairs V Muraleedharan also referred to an agreement signed between India and Iran on the project during Prime Minister Narendra Modi's visit to that country in 2016.


Published on Feb 03, 2021 10:51 PM IST
Located in the Sistan-Balochistan province on the energy-rich Iran's southern coast, the port is being developed by India, Iran and Afghanistan to boost trade ties.


Published on Feb 01, 2021 12:17 AM IST
Hindustan Times had first reported last month that the cranes were set to be delivered in January, months after India cancelled a $30-million contract with Shanghai Zhenhua Heavy Industries for heavy cranes because of delays by the Chinese company in supplying the equipment ordered in 2017.


Updated on Jan 18, 2021 12:17 AM IST