An Air India flight with 180 passengers on board landed ahead of schedule time following a minor crack on its windshield.

Published on Apr 18, 2023 09:36 PM IST
At least 22 houses were emptied out on Friday and 300 people moved from Doda's Nai Basti after cracks spread across several structures, leading to the collapse of at least three.


Updated on Feb 05, 2023 12:18 AM IST
Atul Sati, convener of Joshimath Bachao Sangharsh Samiti, said,said the administration failed to fulfil its promise.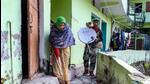 Updated on Feb 04, 2023 03:21 AM IST
The Doda area falls under seismic zone 4, which indicates a high likelihood of destruction from earthquakes.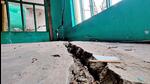 Updated on Feb 04, 2023 04:53 AM IST
Overall, 86 homes have been declared unsafe in the town so far, and 145 families have been shifted to temporary relief camps that dot Joshimath.


Updated on Jan 12, 2023 05:03 AM IST
In the Karanprayag area of Chamoli district, owners of houses facing land subsidence in Bahuguna Nagar area are worried over their fate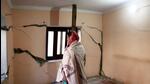 Updated on Jan 11, 2023 04:59 PM IST