Latest from farm laws 2020
The Samyukt Kisan Morcha will now wait for the Centre to respond to the amendments, farmer leader Ashok Dhawale said.
NHAI suffered toll losses worth
₹
2,731.32 crore in Punjab, Haryana and Rajasthan due to the farmers' protest since last October, the government informed Parliament on Wednesday.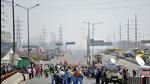 Farm unions may decide to participate in the committee if it is a "concrete" step towards guaranteeing prices of agricultural produce, farm leader Gurnam Singh Charuni said on Tuesday.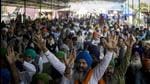 Farm unions on Monday termed the repeal of three agricultural laws by Parliament as a historic victory but criticised the government for repealing the laws without a discussion.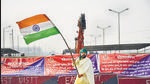 Opposition leaders, demanding that the House must run and discuss key issues, are looking forward to the repeal bill debate to corner the government over farm issues and also demand a law to guarantee minimum support prices (MSP) for agricultural produce.

By
Saubhadra Chatterji and Smriti Kak Ramachandran
, New Delhi