IFS officer shared a stunning clip of white lions in the middle of the forest. This video has intrigued people.


Published on Dec 16, 2022 09:59 AM IST
The officials caught the famous Hollywood mountain lion in a woman's backyard. The lion was tranquilized and is now in a stable condition.


Published on Dec 14, 2022 03:05 PM IST
West Bengal forest minister Jyotipriya Mallick said the state already has a tiger safari in north Bengal.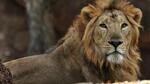 Updated on Nov 05, 2022 07:01 PM IST
Three lions can be seen snuggling in the middle of the road as tourist try to cross the area.


Published on Nov 02, 2022 09:37 AM IST
A video shows a woman petting and posing next to a lion. This video has angered many netizens.


Published on Oct 29, 2022 02:23 PM IST