Latest from mumbai college
Admissions to first year junior college (FYJC) seats is likely to begin next week as the admissions authority is still working on finalising the intake capacity for the 2022-23 academic year.

Published on Jun 23, 2022 05:29 PM IST
Some colleges had chosen to restart practical sessions as it is difficult for students to understand these concepts online.
Published on Mar 05, 2021 07:11 PM IST
Vile Parle's Usha Pravin Gandhi College (UPG College) will be starting the first batch of this dance course in March this year.

Published on Mar 01, 2021 03:07 PM IST
In a letter addressed to MU VC Suhas Pednekar, students of colleges affiliated to the university have their raised concerns about offline exams.

Published on Feb 25, 2021 01:43 PM IST
Though the University of Mumbai (MU) is yet to take a final decision on the issue, sources said that it is more likely to hold online examinations.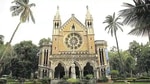 Published on Feb 24, 2021 06:31 PM IST
By
Priyanka Sahoo
, Hindustan Times, Mumbai