The ASI has shared images, including aerial footage, of some of these sites bathed resplendently in colours of India ahead of the 75th anniversary of its Independence.


Published on Aug 14, 2022 11:26 PM IST
On May 24, the court reserved its order as the Archaeological Survey of India (ASI) submitted the 12th-century monument and a World Heritage Site is not a place for prayers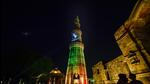 Updated on Jun 09, 2022 01:32 PM IST
On June 3, too, the plea was mentioned for an urgent listing but it was declined by the bench of acting chief justice Vipin Sanghi and justice Sachin Datta.

Published on Jun 07, 2022 12:04 AM IST
Located at the entrance of the Archaeological Survey of India (ASI)-protected complex, is locally known as Mughal Mosque.

Updated on Jun 04, 2022 12:20 AM IST
While taking on record ASI's objections to the lawsuits, the Delhi court wondered whether the petitioners could today assert any legal or fundamental right to worship, assuming 27 temples existed about 800 years back.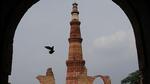 Updated on May 25, 2022 01:24 AM IST