Meet the 28-year-old who's visited every country on a shoestring budget
Updated on Apr 20, 2017 09:46 PM IST
Henrik Jeppesen is only 28-years-old. He has travelled to all 193 countries in the world on a budget, and you can too.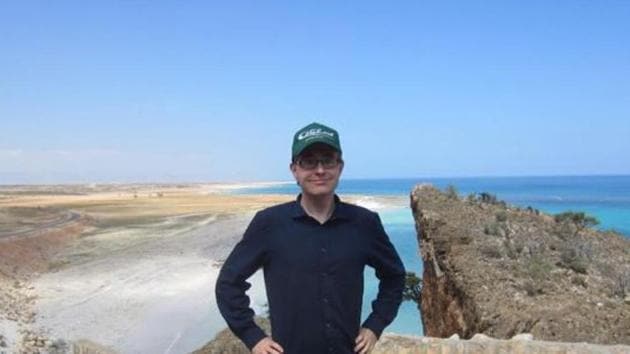 He has witnessed Syria's trauma, breathed in the salty air at Maldivian beaches, bathed in the culture of India, and trekked through the rustic South African countryside on a shoestring budget.
Henrik Jeppesen can boast of what many have only dreamt of accomplishing. At 28, he has travelled to all the 193 countries in the world.
The Dane began his odyssey at the age of 17, with a visit to Egypt. There's been no looking back since then. He began to travel full-time in 2010, as cheaply as he could, documenting the journey on his blog and social media profiles.
On the road for around 3,000 days, Jeppesen spent an estimated $80,000 (Rs 54,484,64) on his journey – which breaks down to around $25 (Rs 1,702) a day. While he spent nothing on some days, he shelled out $100 for a visa on others.
Through the course of his travels, Jeppesen flew over 900 times on 200 different airlines, stayed at more than 1,000 hotels and used up nine passports before finally completing his mission at Eritrea in 2016 – three days before his 28th birthday.
The blogger, who was inspired by travel shows at the age of 13, had initially planned on visiting 50 countries. The number soon rose to 100, and as Jeppesen grew increasingly comfortable with travelling, he decided to clock them all.
Jeppesen says elaborate planning is key. "You have to be ahead of any difficulty you may have envisaged. Acquiring visas can be difficult for a lot of countries. The number of days I stay in a country is often determined by the place I'm visiting. I've stayed for as long as a month in some countries, including India, and only a few days in others. For instance, Vaduz – the capital of Lichtenstein – only has 5,000 inhabitants and an area that can easily be covered in a day."
Jepessen has visited several places in India including New Delhi, Mumbai, Kolkata, Kashmir, Sikkim, Goa, Bangalore, Jaipur, Udaipur, Agra, the Andaman Islands and West Bengal. "I love India. It's such a diverse country. Even though I have travelled to other places, India has enough to offer for a lifetime. I applaud the Indian government's decision to make visa on arrival possible and hope it will make a difference for the country and it's people," he says.
But isn't it dangerous to visit politically volatile countries, or those affected by war? "Iran is seen in a negative light because of its government's actions, but it has the friendliest people in the world. Both Syria and Iraq have parts controlled by the Islamic State, but you can still visit these countries by restricting your travel to safer parts. Damascus in Syria is controlled by the government, and is safe to visit. Erbil in Iraq was safe when I visited it in 2012," says Jeppesen.
It is important to be clear about the type of visa one is travelling on, he says. "I was denied entry into Ethiopia in 2012, because of an unhelpful immigration officer, even though I expected to get visa on arrival. I had to come back the following year on a tourist visa."
Sponsored by over 100 airlines and hosted by over 1,000 hotels, the business graduate (2007 to 2010) has a handy guide to travelling safe on a shoestring budget.
Travel light
Start your journey closer home, eventually moving to neighbouring countries that have strong infrastructure and tourism industries. Travelling light should be your mantra. A phone, phone charger, headphones, passport, a credit card and an extra pair of underwear are all you need to get going. Jeppesen once spent six months on the road without having even a duffel bag to live out of.
Couchsurfing
Couchsurfers are people who open their homes to travellers free of cost, sharing their lives in the process. Connect with hosts and confirm your stay through a couchsurfing platform. Couchsurfing is absolutely free, and gives you an opportunity to meet travellers from places across the globe. Make sure you check reviews of the places you choose to stay before making the trip.
For those who prefer more privacy, the best option is Airbnb. They are substantially cheaper than hotels, and will respond to your requests quicker than those on couchsurfing.
If you insist on staying in hotels, use a search engine such as Hotels25.com to compare prices. Hotels don't want to have empty rooms, and it's often possible to get a last-minute discount.
Stay local
Jeppesen believes it is not difficult for an aspiring traveller to hit the road on a budget. Not having a lot of money to spare is no big deal either. He advises travellers to stay with locals. "It will not only save you a lot of money but also turn out to be a great way to taste some culture," he says.
As Jeppesen's blog and social media following grew, it became easier for him to get free transportation and accommodation. However, he continued to adopt a minimalistic approach to travel. "It's often more advisable to stay with local people," he said. "Staying in a private home can be a better experience. It's more personal, but you do compromise some of your privacy and work time."
Travel intelligently
The blogger travelled across the world on two broad principles of cost-effectiveness:
1) Be on the lookout for low-cost airline and bus tickets during promotions and discounts. Sign up for low-cost newsletters and follow airlines on Twitter. After Jeppesen made it to 100 countries, various companies began sponsoring him in exchange for promoting them among his rapidly growing group of social media followers. For instance, Air Asia charged him just £35 for Malaysia-Australia tickets, and two pounds for domestic flights within Malaysia.
2) Hitching rides from random motorists may not be safe everywhere, but Jeppesen suggests that you overcome the fear and go for it. "I have hitchhiked in over 100 countries, and hitched rides in over 1,000 cars. Besides being a great way to save money, you also get a sense of the city/state you're about to explore," he says. However, do not hitchhike at night, and acquire some local contacts before visiting certain countries. Travelling bagless not only helps negotiate airport security easily but also makes local motorists more receptive to giving you a lift.
Eat smart
Avoid restaurants. Be aware that you are travelling on a shoestring budget, and choose your meals accordingly. In many countries, it's possible to have a wholesome meal at the supermarket for less than a dollar. Sometimes, locals invite you over for dinner.
Though it's been over six months since he returned home to Denmark, Jeppesen refuses to keep his wanderlust in check. Has he checked everything off his bucket list? No. A public speaker, blogger and social media influencer, Jeppesen's next goal is to visit every territory in the world. So far, he has visited 96 of the 132 recognised territories in the world. The travel-blogger hopes to undertake an in-depth exploration of America next year, and check off all its 50 states. You can follow his progress here.
Personalise your news feed. Follow trending topics