Thanks to Priyanka Chopra's wedding, Rajasthan palaces and forts are back in the spotlight. See pics
Updated on Dec 08, 2018 11:35 AM IST
Jodhpur's Mehrangarh Fort to Amer Fort in Jaipur, we take you through some of the forts in Rajasthan which you should definitely visit.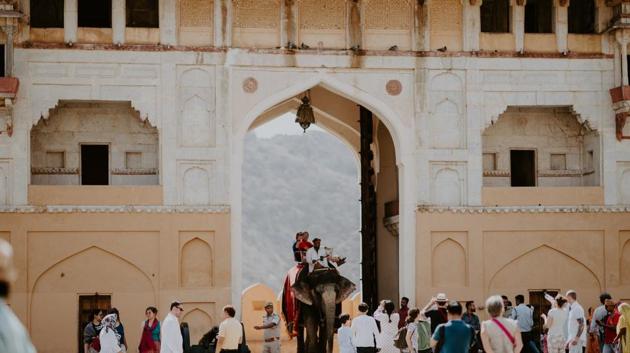 Priyanka Chopra and Nick Jonas chose Jodhpur's Umaid Bhawan Palace, a magnificent piece of Rajasthan's heritage, for their wedding celebrations. The palace is the home of the former royal family of Jodhpur and is the sixth largest private residence in the world. Stretching across 26 acres of land (including 15 acres of lush gardens), the luxury five-star heritage hotel sits on the highest point of the city, Chittar Hill. With Priyanka and Nick's fairytale wedding, grand Rajasthan forts are back in the spotlight. They can also be the perfect getaway to catch some sun, seeking respite from the soon-to-begin chilly winter in Delhi.
The ancient forts of Rajasthan are one of the main attractions for tourists from around the world. Several of these have been maintained well, and are quite an experience to visit. Here are some that should be on your must-visit list.
Mehrangarh Fort, Jodhpur
The Mehrangarh Fort has stunning rooms bedecked with mirrors and various hues. If you are a fan of art or history, you will certainly appreciate the Mehrangarh Fort. The café inside ensures that you can take a break while exploring and refresh yourselves. Definitely check out Chamunda Temple inside the fort, where you can get a magical view of all the blue buildings of Jodhpur, also known as the Blue City.
Nahargarh Fort, Jaipur
Located near the Aravalli Hills, Nahargarh Fort provides a spectacular view of Jaipur and its architectural stretch. The beautiful fort was built in 1734 by Maharaja Sawai Jai Singh II. It also houses Madhavendra Bhavan, a luxurious spot surrounded by temples, gardens and boasting of an exquisite architectural design with influences from Rajputs, Mughal and European sensibilities.
Amer Fort, Jaipur
Built on the top of a hill, the Amer Fort is magnificent and humongous. When setting out to explore this place, remember it would take you the entire morning and afternoon for thorough sightseeing. It has gorgeous entrances and offers spectacular views of the city. The light and sound show which takes place here is certainly worth a watch. Did you know that the Hindi version has been recorded by actor Amitabh Bachchan?
Chittor Fort, Chittorgarh
Easily one of the biggest forts in Rajasthan, this fort was Mewar's capital at one point of time. Make sure you visit the Padmini Palace and the Meera Temple which are situated within the fort.