Indonesian dance group recreates SRK, Deepika Padukone's Jhoome Jo Pathaan
Jan 14, 2023 07:19 PM IST
In the video, an Indonesian dance group recreates the whole song of Jhoome Jo Patha. Their performance has been praised by many.
The song Jhoome Jo Pathaan from Shah Rukh Khan and Deepika Padukone's upcoming film Pathaan has created quite a buzz since its release. Many have shared videos imitating the hookstes of the songs. Amid those clips, one particular one has attracted people's attention. The video shows a dance group from Indonesia recreating the entire song, including the attires worn by Shah Rukh Khan and Deepika Padukone in the original track.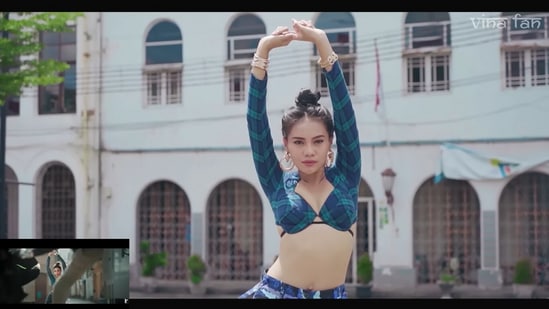 YouTuber Vina Fan shared the video on her channel. Her channel's bio describes her as "Indonesia's Bollywood Icon, Influencer, Model, Artist, Content Creator. " She shared the video with the name of the song.
The clip opens to show the screen split into two parts. One of the parts shows the scenes from the original song and the other shows the dancers' recreated version.
Take a look at the video that may leave you both amazed and amused:
The video was shared a few days ago. Since being posted, the clip has received more than 3.5 lakh views and the numbers are only increasing. Additionally, the video has received several comments from people.
Here's how YouTube users reacted to the video:
"I just found this channel and I just can't stop watching it. The girl replicating Deepika is so beautiful. Oh my God," praised a YouTube user. "Dammmmm costume, location, outfit, makeup, camerawork, back dancers, song and of course the two elegant artists Vina fan and Ferdin are just sooooooooooooooo perfect everything was unbelievable like a original movie. Proud of you my Queen. Lots of love from India," expressed another. "Wow wow wow," commented a third. "Oh my God Vina you both are just fantabulously fantastic. I'm speechless, no word to say anything about your performance and everything is so perfect... Big fan love from India," wrote a fourth.