Jimmy Kimmel's chat with himself from 2003 leaves people in splits. Watch
Jan 29, 2023 02:07 PM IST
Jimmy Kimmel took to Twitter to share the video that shows him having a conversation with himself from 2003.
How would it be if you could talk to your past self? Jimmy Kimmel recently took to Twitter to share a video to show how it was for him to chat with himself from 2003. Since being posted, the video has gone viral and left people in splits. There's a high possibility that the clip will tickle your funny bone too.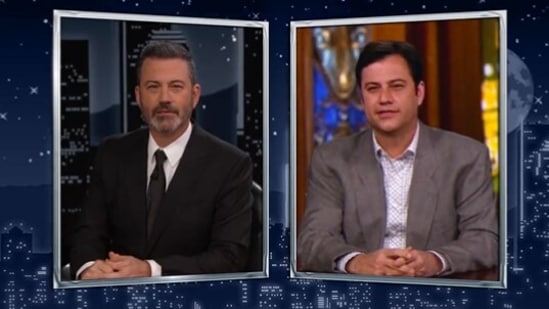 "A chat with me from the year 2003…," Kimmel wrote as he tweeted the video. The video opens to show Kimmel's present and past selves. During the conversation, they both talk about what was and how the world changed but in a completely hilarious way. At one point, he also expressed how it is the advanced technology that made it possible for him to create the video.
Take a look at the video that may make you chuckle:
The video was posted a few days ago. Since being shared, the clip has received more than 5.3 lakh views. Additionally, the tweet has accumulated nearly 2,700 likes. People posted various comments while reacting to the video.
Here's how Twitter users reacted to the video:
"This is awesome!! Congrats on 20 freaking years and so happy you're still going strong!" posted a Twitter user. "Congrats Jimmy Kimmel!!! You have me crying with laughter tonight! I would be starstruck seeing you and your guests tonight!" expressed another. "That was an awesome bit, absolutely amazing!" commented a third. "Made me really laugh, you and your crew are so incredibly creative and funny!! Happy Anniversary Jimmy," wrote a fourth.
Topics