Papa parakeet says 'Gonna feed my babies' as he feeds his kids. Watch cute video
This video shows a male parakeet called Ozzie who is overjoyed to feed his kids and keeps repeating, "gonna feed my babies."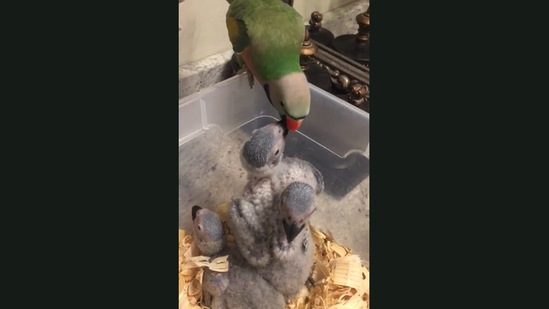 Published on Dec 02, 2021 05:48 PM IST
It is an instinctive parental urge to take the best care of your kids and make sure that they are always well fed and happy. Ozzie, the cute, male moustached parakeet in this video showcases the exact same kind of love towards his kids.
In this video, shot at Baton Rouge in Louisiana in the United States, viewers can clearly see that there are three gray baby parakeets who are eating food. And feeding them is their father who is extremely overjoyed to be performing this parenting duty. So much so, that he keeps bobbing his head up and down and sings in a very specific, repetitive tone, "My babies, gonna feed my babies."
The happiness in this papa bird is simply unmatched and the energy that he creates is truly that of utmost love for his kids.
Watch the adorable bird video right here:
What are your thoughts on the fatherly love from this cute bird?
Topics
Close Story