Dhanashree Verma dances to Telugu hit with choreographer, video goes viral
Published on Aug 09, 2022 01:15 PM IST
The video that shows Dhanashree Verma grooving with choreographer Ravi Soni to hit Telugu number went viral online.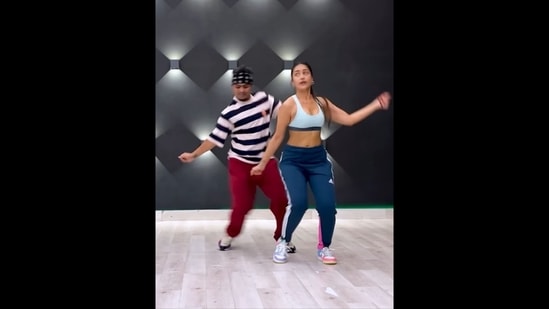 Dhanashree Verma is an avid Instagram user who often shares videos of herself dancing on hit numbers or with others that go viral in no time. Case in point, this video that shows her dancing to a Telugu hit number with her partner. The duo's power-packed performance has wowed netizens, and there are chances that it may leave you amused too.
The now-viral clip was posted on Instagram by Dhanashree Verma. She has more than 5.1 million followers on Instagram who love watching videos showing her participating in different online trends or grooving to hit numbers. "Always BORN READY.!! Your energy speaks volumes always. It introduces you before you even speak," read the caption posted alongside the video with the hashtag #rarareddyiamready.
The video shows Dhanashree Verma and choreographer Ravi Soni grooving to the hit Telugu number 'Ra Ra Ready. I'm Ready' from the upcoming film Macherla Niyojakavargam in perfect coordination.
Watch the viral dance video below:
Since being shared a day ago, the video has garnered over 3 million views. It has also amassed nearly 4 lakh likes. Netizens also posted various comments.
"Power packed," commented an individual. "Full power," posted another. "This dance routine u will never forget in your entire life," wrote a third. "Do more dance videos on telugu song beats....love you Dhanashree," expressed a fourth.
Personalise your news feed. Follow trending topics