A woman can be seen dancing in this Instagram video until she takes a tumble, but her father protects her in the sweetest way ever.


Published on Jul 24, 2022 12:01 PM IST
This Instagram video posted by Ricky Pond, the 'Dancing Dad' from US shows him shake a leg to Badshah's Sajna used in the show Say Yes To The Dress.


Published on Jan 12, 2022 03:20 PM IST
Richa Chadha makes chest rolls and complex torso movements look so easy as she burns calories by belly dancing to Kylie M Bailey's 'So I want you' track and it is the hottest fitness inspiration on the Internet today | Check out the viral video and health benefits of the exercise inside


Updated on Nov 28, 2021 08:39 PM IST
Nora Fatehi recently shared a hilarious video that started out as a fitness clip but turned into a full-blown dance session with her hair stylist in the gym. Have you seen it yet?

Published on May 17, 2021 02:40 PM IST
On Friday, the city officials of New Orleans announced that live indoor music can resume, however, dancing is still prohibited. That was not all, it was also stated, indoor gatherings will be limited to 75 people and outdoor gatherings to 150.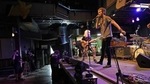 Updated on Mar 11, 2021 07:28 AM IST