Bigg Boss 12 day 74: Sreesanth confesses he provoked Brian Lara, captaincy task ends with no result
Nov 30, 2018 03:54 PM IST
Bigg Boss declared that the current week will have no captain in the house as the contestants failed to perform well during the task.
Bigg Boss season 12 is getting more intense every day with dissolving groups and changing in loyalties. After the luxury budget task ended in a draw, the contenders for the captaincy race could not be decided as a result. Bigg Boss introduced the captaincy task of the week and asked the contestants to mutually nominate four contenders for the task.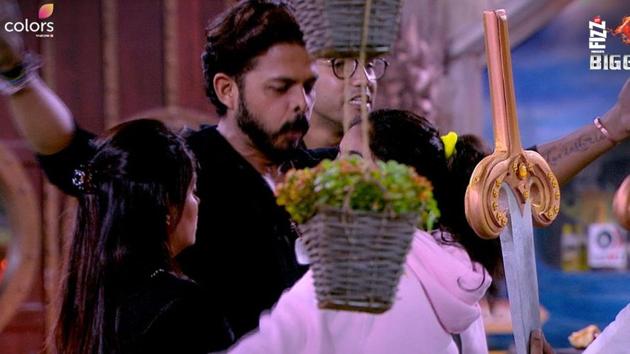 On the basis of majority, Dipika Kakar, Surbhi Rana, Deepak Thakur and Romil Chaudhary were selected to compete for captaincy. Megha Dhade also wanted to be the captain of the house but could not get the support of the house mates and therefore felt left out of the race. Since Somi Khan and Jasleen Matharu had failed to declare the winners during the last task, they were ousted from the captaincy race.
As per the rules of the captaincy task, four swords were placed in the open area, each thrust into a huge rock. The four players selected for the task could not play the game themselves but had to send their representative to take part in the task. Romil selected Jasleen, Dipika named Megha, Surbhi named Rohit Suchanti and Deepak named Karanvir Bohra as his representative. The representatives were required to safeguard the sword to save that contender, who in turn had to convince the other representatives to give up the task.
After several hours, since none of the representatives gave up the task, Bigg Boss interfered and introduced a new rule. On each buzzer, one of the representatives had to give up on the basis of majority of the other representatives. As a result, Bigg Boss cancelled the task and no contestant could become the captain of the house.
The task however was dominated by a few incidents in the house. Sreesanth and Surbhi had yet another brawl during which the former cricketer said that he had even provoked Brian Lara on the field, he can easily make Surbhi lose his temper.
Earlier, several contestants had tried to encourage Rohit to pee and leave the task. But he eventually found a way to stay by urinating in a sipper as Surbhi and Deepak covered him with a blanket.
Follow @htshowbiz for more