LV Revanth wins Indian Idol 9, now wants to learn Hindi and make it big in Bollywood
Apr 02, 2017 11:33 PM IST
Hyderabad-based playback singer Revanth bagged the most-coveted title of Indian Idol in the Season 9 of the singing reality show conducted by Sony Television on Sunday.
LV Revanth, the South Indian playback singer, has reached a major milestone — he has bagged the trophy of Indian Idol Season 9. What's next? He wants to prove those who mocked his Hindi wrong by learning the language and making a mark in Bollywood. But before that, it's time for celebration. "I will go back home and celebrate with my friends and family who supported me, but I will come back to Bollywood and settle here," says 26-year-old Revanth, who has won prize money of Rs 25 lakh and a contract with Universal Music. "I want to thank all the people who have supported me in my journey to win the first ever show of my life."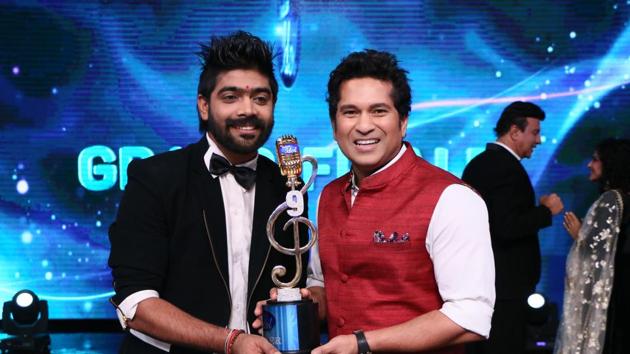 Revanth, who's from Hyderabad and is already an established singer in the Telugu film industry, aka Tollywood, sang the song Manohari in Baahubali: The Beginning. Determined to make it big in Bollywood, he says, "I have big dreams and I have to make it big in Bollywood. I have one eye set on Bollywood and the other on Tollywood, but I want to work on my Hindi first."
Revanth, whose original name is Lolla Venkata Revanth Kumar Sharma, is the second Telugu singer to win the Indian Idol title, the first one being Sreeram Chandra who bagged the title in the Season 5 of the Indian Idol.
Born on February 10, 1990 in Srikakulam district of Andhra Pradesh state, Revanth had his education in Srikakulam and Visakhapatnam. He moved to Hyderabad to pursue his career in playback singing. He lost his father, just before he was born. He has an elder brother and he was brought up by his mother.
Revanth's career took a turn with the encouragement given by popular Telugu music composer MM Keeravani. In 2008, he sang his first film song, Jhalak Diklaja in Maha Yagnam, composed by Vandemataram Srinivas. He won several awards including the International Indian Film Academy (IIFA) award for the best playback singing. He participated in several reality shows on Telugu television channels and emerged as title winner.
The winner recalls the time he drew mockery for his poor Hindi on the show: "When I started my journey in Indian Idol, a lot of people laughed at me for not knowing Hindi very well. I did feel bad about it, initially, but I did not let anything negative affect me and kept my willpower strong."
Revanth is ready to repeat the struggle in Bollywood, as he's sure that he will rise. "I know the value of money, opportunity and hard work," he says. "I know that Bollywood is a huge industry and the number of artists is huge as well. But I want its people to listen to my songs and recognise my talent."
What makes him proudest? The fact that he achieved all this success without any formal training in music. Revanth says, "Family situations never allowed me to do anything big. I came to Indian Idol not to win or lose, but only to sing. The best part about the show is the learning I got. I will go back home and visit a temple to offer my prayers to God."
(With inputs from Srinivasa Rao Apparasu)