On Peter Dinklage's birthday, relive his 5 best scenes as Tyrion Lannister
Peter Dinklage gave television one of the best characters ever created in several years as Game of Thrones' Tyrion Lannister.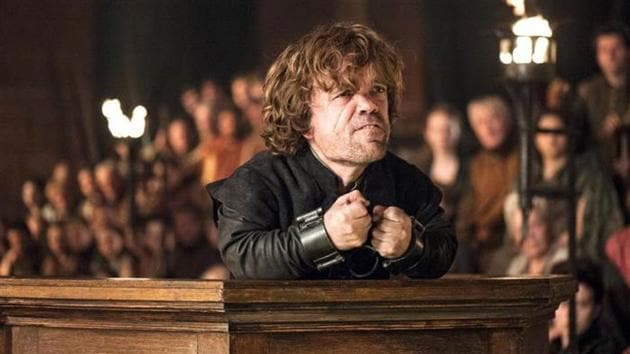 Updated on Jun 11, 2018 12:12 PM IST
Peter Dinklage turns 49 on Monday and of these five decades, he has spent 23 entertaining people around the world. With movies like The Station Agent, Death At A Funeral, Narnia and more, he made a special place in everyone's heart.
This powerhouse actor, however, is best known as Tyrion Lannister from HBO's mega popular series, Game of Thrones. He plays the unloved dwarf son of a ruthless father who hates him for 'killing his mother in childbirth'. He received nothing but hatred from his father, his sister and the world all his life, which is why he now knows how to get out of the worst, trickiest situations with simply the help of his wit.
When the show was in its early stages in 2009, Peter was the first person to be cast in the show. "I knew he was incredibly funny, incredibly smart and had that caustic wit," said the show's creator David Benioff about Peter in an interview to The New York Times in 2012. Co-creator Dan Weiss, observed that Dinklage's "core of humanity, covered by a shell of sardonic dry wit, is pretty well in keeping with the character."
All of it is evident in his performances on the show. Dinklage has opened new gates for actors all around the world and inspired them to believe that there is no challenge that cannot be overcome.
If you need more proof of his talent as an actor, here are five great Tyrion Lannister scenes from Game Of Thrones.
1. Tyrion slaps Joffrey
Joffrey may not have got the death he deserved but Tyrion's three tight slaps certainly satisfied us in the second episode itself. He tells Joffrey to talk to Sansa but when he refuses to do so, he prints his hand right across his face. Joffrey's cribbing doesn't help his cause and gets more whacks plastered on his cheek. Ah! The right death for Joffrey would have been death-by-Tryrion's-slaps.
2. Tyrion threatens Cersei
She may be sister to him but Cersei is perhaps the person he hates the most in the world. His words from season two haunted Cersei for years, scared about losing her happiness, her life and her kids and it all came true.
"I will hurt you for this. A day will come when you think you are safe and happy, and your joy will turn to ashes in your mouth. And you will know the debt is paid."
3. Tyrion kills his father
He deserved it. Tywin had this coming for a long time. He may have ruined several lives as the Lord of Casterly Rock but none as bad as Tyrion. "All my life you've wanted me dead," he says. "You're my son," he says on his death-toilet, just wanting to stay alive.
4. Tyrion rallies the troops
When a cowardly Joffrey refused to stand by his men at the Blackwater Bay, it fell on Tyrion's shoulders to save his city from Stannis Baratheon's army. "They say I am only half a man, then what does that make you lot?," he says to the disheartened soldiers. "Those are brave men knocking at our door. Let's go kill them!"
5. Tyrion shows Kings Landing the mirror
"I should have let Stannis kill you all," he says to a Kings Landing that wants to watch him die for a crime he didn't commit. "I did not kill Joffrey, but I wish that I had! Watching your vicious bastard die gave me more relief, than a thousand lying wh*res!"
Follow @htshowbiz for more
Close Story