Budget 2017 in videos: Highlights of FM Arun Jaitley's announcements
Updated on Feb 01, 2017 09:24 PM IST
India will ramp up spending on rural areas, infrastructure and fighting poverty, finance minister Arun Jaitley said as he unveiled his annual budget on Wednesday, adding the impact on growth from the government's cash crackdown would wear off soon.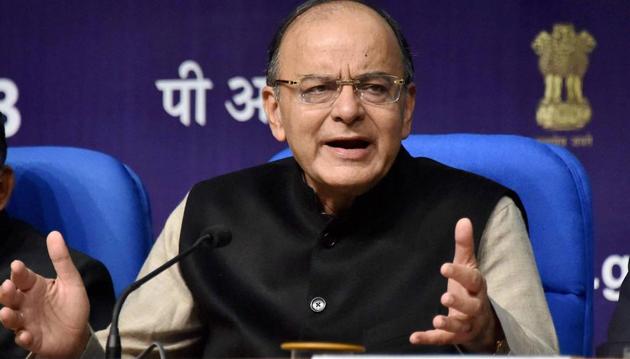 New Delhi, Hindustan Times |
HT Correspondent
Finance minister Arun Jaitley on Wednesday sought to ramp up spending on rural areas and infrastructure as well as hand out marginal tax relief to the middle-class and small businesses in his budget proposals for 2017-18, which he said will help beat the fallout of demonetisation. Here are the highlights of Jaitley's budget for the 2017/18 fiscal year that begins on April 1.
Tax relief
Jaitley gave marginal relief to the country's taxpayers in the 2017 budget but disappointed those who expected big breaks to cushion the demonetisation blow. Jaitley's biggest tax announcement was halving of the lowest rate of personal tax to 5% for annual incomes between Rs 2.5 lakh and Rs 5 lakh.
Education sector
The education sector got a substantial boost in the 2017-18 budget, with Jaitley allocating Rs79,686 crore, which is up by more than 10% from last year.
The minister announced a host of initiatives to reform the sector, including setting up of a National Testing Service to conduct all entrance examinations for higher education institutions, restructuring the University Grants Commission, and launching online courses for school and college students. He also declared the setting up of an innovation fund for secondary education.
Balm for small businesses
Jaitley reduced tax for smaller businesses that took a big hit following the government's decision to recall high-value notes. Presenting the 2017 budget, Jaitley reduced the corporate tax from 30% to 25% for units with an annual turnover of less than Rs 50 crore. These businesses saw a 60% drop in workforce after demonetisation.
Two new AIIMS
Jaitley announced two new All India Institute of Medical Sciences in the states of Jharkhand and Gujarat. Medical education found a prominent place in the budget, with the increase in 5,000 post graduate medical seats per annum. Also, all big district hospitals, municipal corporation hospitals and ESI hospitals have been given powers to introduce super-speciality courses.
Defence allocation
The government hiked its allocation on defence spending by a marginal 6%, but experts said the modest increase might hurt the military's modernisation plans, crucial to keeping up with China's expanding might. Jaitley allotted Rs 2.74 lakh crore for defence spending in 2017-18 – including Rs 86,488 crore for modernisation -- up from last year's Rs 2.58 lakh crore.
Crackdown on economic offenders
The government also signaled its intention to get tough on economic offenders who have burdened India's banking system with bad loans, but there has been no concrete action to tackle the non-performing asset (NPA) problem.
Rural economy boost
The focus of this budget, however, was on the rural economy. "My approach in preparing the budget is to spend more on rural areas, infrastructure and poverty alleviation with fiscal prudence," Jaitley told Parliament.
For Indian Railways
Jaitley set a March 2019 deadline for the railways for establishing an accrual-based accounting system and has underlined the need for the state-owned transporter to take "transformative measures" in the way it conducts its business. He also hinted that a Rail Tariff Authority – called the Rail Development Authority – would shortly be set up to take decisions on freight and passenger tariffs by taking into account factors such as the cost of providing the service, quality of services offered and the social obligation needs.
GST finds place
Presenting the 2017 budget, Jaitley left the excise and service tax largely unchanged, keeping hopes alive for the roll out of the ambitious goods and services tax regime in July.
Demonetisation talk
The government's decision to junk two high-value currency notes had created a new normal that will help the Indian economy in the long run, Jaitley said. "Demonetisation is a bold and decisive measure... It seeks to create a new normal wherein the GDP will be bigger, cleaner and real," the minister said.
And then there was poetry
Jaitley mixed poetry with hard-nosed business sense as he presented the budget for 2017-18, maintaining a tradition that has seen Parliament reverberate with sublime verses over the years.
"Iss mod par na ghabra kar tham jaaiye aap, Jo baat nayi hai usay apnaaiye aap (Don't get nervous and stop at this juncture)," Jailtey said as he laid the government's vision for an India that is less reliant on cash.
"Darte hain nayi raah pe kyun chalne se, Hum aage aage chalte hain aaiye aap… (Why are you afraid of this new road, I am leading the way, come with me)", he added in his remarks which appeared to be aimed at opposition parties which had criticised the demonetisation move.
Also read: Budget 2017: Jaitley lowers cash donation limit for parties to Rs 2,000