Bashar al-Assad won back Aleppo, but immense challenges lie ahead in Syria
Dec 24, 2016 11:15 AM IST
In a sign of the immense challenges that still lie ahead for President Bashar Assad, rebels outside the city shelled a neighbourhood in the city, killing three people in the first bombardment since government forces took full control of Syria's largest city a day earlier
Hundreds of people returned to eastern Aleppo neighbourhoods on Friday to check on their homes after the last opposition fighters left the city, picking through debris and wreckage for personal belongings blasted by years of fighting.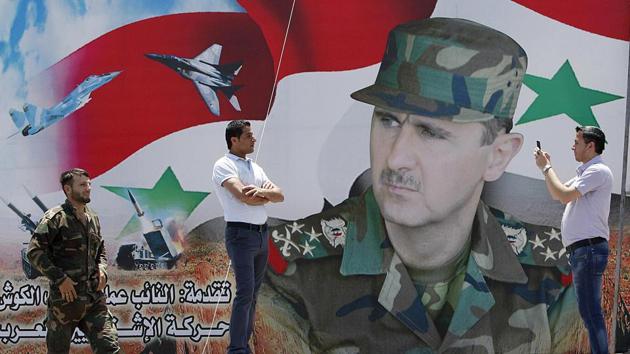 In a sign of the immense challenges that still lie ahead for President Bashar Assad, rebels outside the city shelled a neighbourhood in the city, killing three people in the first bombardment since government forces took full control of Syria's largest city a day earlier, state TV reported.
The rebel surrender in Aleppo ended a brutal chapter in Syria's nearly six-year civil war, and marked Assad's most significant victory since an uprising against his family's four-decade rule began in 2011. But large parts of the war-ravaged country remain outside his control, including rural areas in Aleppo province south and west of the city where opposition fighters still operate.
Read | Syrian president Bashar al-Assad congratulates nation on 'liberation' of Aleppo
Assad has said that the most important priority after securing Aleppo will be fortifying the countryside around it before moving on to other strongholds outside his control, including the nearby province of Idlib, west of Aleppo, and the city of Raqqa controlled by the Islamic State group in eastern Syria.
Syrian TV said Friday's rockets which hit the southwestern neighbourhood of Hamadaniyeh were fired by insurgents based southwest of Aleppo.
Associated Press footage from inside neighbourhoods in eastern Aleppo taken over by the army after the last rebels were bused out a day earlier captured the staggering destruction: Row after row of destroyed buildings, many with blown out doors and windows, and toppled floors, along debris-strewn streets lined with charred vehicles. Not a single building appeared intact.
In the Sukkari, Ansari and Amiriyeh neighbourhoods, army experts were dismantling explosives and booby-traps left behind by rebels before they left.
Hundreds of people walked through the Bustan al-Qasr crossing, a passageway that separated rebel-controlled eastern Aleppo from the government-controlled al-Masharqa district, which was closed years ago, cutting off links between the two sides of the divided city.
Ahmad Khayata was among those who returned to see what remains of his home in Sukkari, one of the last neighbourhoods to be evacuated by opposition fighters Thursday. He was told by soldiers he needed to wait until they finish de-mining the area.
Read | Aleppo liberated: What shaped Syria's war-torn city since March 2011
"It's been five years since I left my home," he said. "Thank God now we are back... They (soldiers) told us maybe in the afternoon or tomorrow it will be possible" to go in, he said.
The Syrian government's recapture of Aleppo after a prolonged and punishing air assault leaves Assad in control of almost all major urban areas — and poised to play a role in the world community's broader war against jihadis clinging to parts of Syria. It is a devastating a blow for the opposition, whose main backer, Turkey, is now heavily engaged with Moscow in searching for a settlement to the six-year war in Syria.
In Moscow, President Vladimir Putin, one of Assad's key backers, said it's necessary to establish a cease-fire across the entire territory of Syria, to be followed by peace talks.
"In the next stage, an agreement on a cease-fire on the entire territory of Syria should be reached and practical talks on a political settlement should start immediately after," Putin said at his annual news conference.
He said the leaders of Turkey and Iran, which have helped broker the withdrawal of the remaining civilians and militants from Aleppo, have agreed that Syria peace talks should be held in Kazakhstan's capital, Astana. He added that Assad has agreed to that proposal.
The Kremlin later said that Putin called Assad to congratulate him on the capture of Aleppo.
"This success was possibly only thanks to joint efforts of everyone who rallied together against international terrorism in Syria," Putin was quoted as saying.
The Kremlin also said Putin told Assad that "the main goal now is to focus efforts on issues of advancing a peace settlement including hammering out an agreement on a comprehensive settlement for the Syria crisis."
Read | Aleppo recapture deals setback to Gulf rebel backers
Russia's Defense Minister Sergei Shoigu said in a meeting with Putin that a military police battalion had been deployed to eastern Aleppo the previous evening to "ensure order." He didn't specify how many troops had been deployed.
Shoigu told Putin that the Russian military is helping restore water and energy supplies to eastern districts of Aleppo and clearing them from mines. Shoigu said that an agreement on a "complete cease-fire" in Syria is very close, didn't offer details.
Syrian state TV said the Russian force aims to protect explosive experts in the Russian base of Hemeimeem on the coast.
The ancient city had been divided into rebel and government parts since 2012, when rebels from the countryside swept in and took hold of eastern districts. That set the stage for more than four years of brutal fighting and government bombardment that laid waste to those neighbourhoods.
The rebel evacuations were set in motion after a months-long siege and Russian-backed military campaign. Years of resistance were stamped out in a relentless campaign over the past month that saw hospitals bombed, bodies left unburied and civilians killed by shells as they fled for safety.
Under a deal brokered by Russia and Turkey, tens of thousands of residents and fighters began evacuating to opposition-controlled areas in the surrounding countryside, a process that took a week and ended Thursday night.
Pro-government TV stations reported that rebels killed dozens of prisoners they were holding before they evacuated the city. Syrian rebels denied the reports in an exchange monitored by the International Committee of the Red Cross and the Syrian Arab Red Crescent, saying the prisoners were released.
A Syrian military official told The Associated Press that the gunmen carried out "criminal acts" before the left east Aleppo, adding that he will not go into details until a military investigation is over. He spoke by telephone from Syria on condition of anonymity in line with army regulations.
"Exciting news! Hindustan Times is now on WhatsApp Channels
Subscribe today by clicking the link and stay updated with the latest news!"
Click here!
Get Latest
World News
along with
Latest News
from
India
at Hindustan Times.