China firmly with Pakistan, says Beijing as Islamabad raises Kashmir in top talks
Last week, China had for the fourth time put a technical hold on listing JeM chief, Masood Azhar as a global terrorist at the UN security council, saying it needed more time to study the case.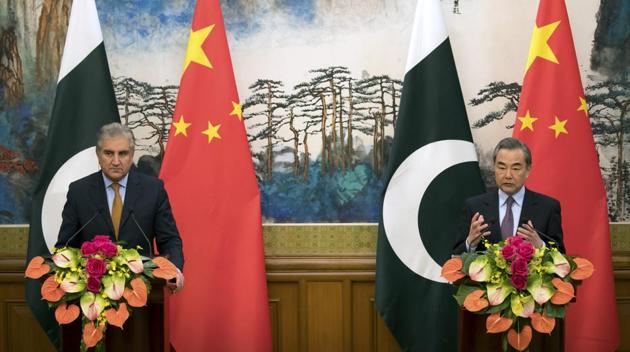 Updated on Apr 24, 2020 04:47 PM IST
Hindustan Times, Beijing |
Sutirtho Patranobis
China on Tuesday assured Pakistan of firm support to protect its territorial integrity and dignity during a high-level bilateral strategic dialogue in Beijing. At this meeting, Islamabad had raised the "rapidly deteriorating" situation in Kashmir and called on New Delhi to relook its policies in the state.
Speaking at a joint press conference with Pakistan foreign minister, Shah Mahmood Qureshi, Chinese state councilor and foreign minister, Wang Yi appreciated Islamabad's efforts to ease tensions with India following the terror attack in Kashmir's Pulwama, claimed by Pakistan-based terror outfit, Jaish-e-Mohammed (JeM).
The attack was followed by the Indian Air Force carrying out strikes on a JeM training camp and the air force of the two countries engaging each other in a dogfight near the Line of Control.
Last week, China had for the fourth time put a technical hold on listing JeM chief, Masood Azhar as a global terrorist at the UN security council, saying it needed more time to study the case.
On Tuesday, Wang reiterated Beijing's backing for Islamabad.
"No matter how things change in the world and the region, China will firmly support Pakistan upholding its independence and territorial integrity and dignity," he said amid growing international pressure on Pakistan to take concrete steps against cross-border terrorism.
Wang said China has always believed that peace and stability in south Asia was in the joint interests of countries in the region and is what the international community wishes.
Read more| Behind China's move to block Masood Azhar's listing, a strategic reason
"China appreciates Pakistan's constructive efforts to ease the situation and calls on Pakistan and India to continue to exercise restraint and resolve the differences that exist via dialogue and peaceful means," Wang said.
Wang said Sino-Pakistan ties remain "rock solid and vibrant" despite the changing international landscape.
China also called on India and Pakistan to exercise restraint and peacefully resolve differences through dialogue.
The two ministers were addressing the press after the first-ever China-Pakistan Foreign Minister-level strategic dialogue.
Qureshi said the situation in Kashmir was discussed during his dialogue with Wang.
"I also briefed the foreign minister on the rapidly deteriorating situation on the Indian side of Kashmir, intensification of human rights violations, especially after Pulwama," he said, referring to where the attack took place.
"This is a concern because that leads to a reaction and that reaction at times creates tensions in the region which must be avoided," Qureshi added.
"I think there's a need for a new assessment on how the situation on the Indian side of Kashmir should be handled by the Indians. There are now voices within India that are questioning the efficacy of the policy that they've followed for the last so many years," Qureshi said.
He said "Pakistan was always ready and is still ready" for talks with India to resolve differences.
The Pakistani foreign minister hailed China's support to his country in the challenging times and said Islamabad was committed to the expeditious implementation of the China-Pakistan Economic Corridor (CPEC).
Qureshi appreciated China's stand that there should be no double standards in combating terrorism as he thanked Beijing for its support to Pakistan in international fora on the issue of tackling the menace.
Qureshi said that China has been "helpful in these challenging times for Pakistan".
"The Chinese government was very generous in supporting Pakistan. We had good discussions...We are committed to the expeditious implementation of CPEC," Qureshi said.
Read more| Masood Azhar issue will be resolved, says Chinese envoy
New Delhi has repeatedly lodged protests with China on the CPEC as it goes through Pakistan-occupied Kashmir, saying the project violates India's territorial integrity.
The CPEC, which connects Gwadar Port in Balochistan with China's Xinjiang province, is the flagship project of Chinese President Xi Jinping's ambitious Belt and Road Initiative (BRI).
Pakistan Prime Minister Imran Khan will attend the second Belt and Road Forum to be held in Beijing end of next month.
At an earlier meeting on Tuesday, Chinese Vice President Wang Qishan told Qureshi that China supports "...Pakistan in seizing opportunities and tackling challenges, and properly handling relations with its neighbors, to achieve stable development."
Qureshi told Vice President Wang that Pakistan appreciates China's constructive role in moderating tensions between India and Pakistan.
Close Story