Chinese workers in Pakistan fight with cops for being barred from red light district
Hindustan Times, Islamabad |
, Islamabad
Imtiaz Ahmad
Apr 05, 2018 10:54 PM IST
The Chinese engineers and other personnel are currently working on the M4 motorway from Bahawalpur to Faisalabad.
Chinese nationals engaged in constructing a highway in Pakistan's central Punjab province scuffled with policemen deployed for their security after they were barred from visiting a red light district, according to a media report.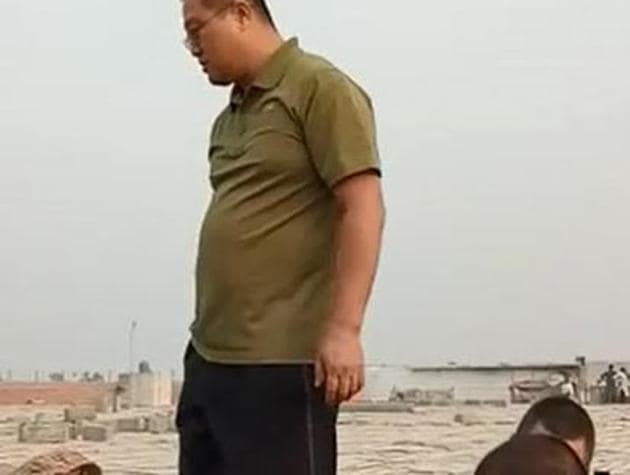 Chinese engineers and other personnel, who are currently working on the M4 motorway from Bahawalpur to Faisalabad, attacked the policemen on Wednesday after they were prevented from leaving their camp in Khanewal without a security detail, Dawn News channel reported.
In mobile phone footage shared widely on social media, the Chinese nationals are seen approaching the policemen in a provocative manner and scuffling with them. One video showed a Chinese man standing on the bonnet of a police van, and another showed several Chinese men hitting policemen and some men in plainclothes.
Police officials told the media the Chinese had wanted to leave their camp and visit a red light area on Tuesday night. They protested when they were not allowed to leave the camp without being accompanied by security guards. The Chinese engineers also cut off power to a police camp at the construction site, the officials said.
On Wednesday, the Chinese nationals stopped work on the project and abandoned heavy machinery and vehicles on different roads. They also attacked more policemen in their camp.
The local media reported that the Chinese engineers wrote a letter to Punjab chief minister Shehbaz Sharif, in which they claimed police officials had prevented them from performing their duties and also attacked them. They accused the official in-charge of security of attempting to hit Chinese workers with his vehicle.
The Dawn newspaper reported this was not the first time that Chinese nationals had attacked Pakistani police. In 2016, there was a clash between police and Chinese workers who had insisted on staying at a construction camp at night. Police had opposed the idea for security reasons.
Local media reports also suggested some of the Chinese nationals involved in the 2016 incident were associated with the Chinese army and trained in martial arts. They had attacked and injured some policemen. Following that incident, the local administration suspended nine policemen for not "restraining themselves".