Documentary filmmaker releases video of 'swarm of UFOs' over US navy ship
UFO filmmaker Jeremy Corbell posted a 46-second clip on Twitter, saying the event was captured in June 2019 by the combat information centre of the USS Omaha.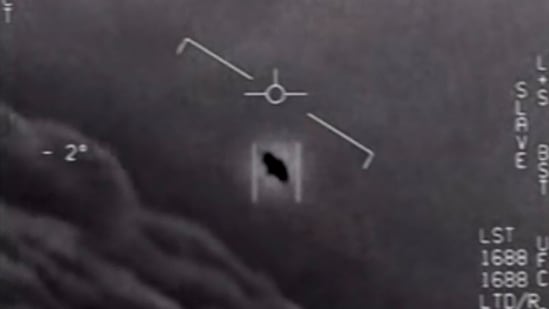 Published on May 29, 2021 04:35 PM IST
Days after former US president Barack Obama said that the military has evidence regarding mysterious flying objects, a documentary filmmaker released a video clip depicting radar footage that shows, he claimed, a swarm of unidentified flying objects (UFOs) near a navy ship. Jeremy Corbell on Thursday posted a 46-second clip on Twitter, saying the event was captured in June 2019 by the Combat Information Centre of the USS Omaha, an Independence-class littoral combat ship, off the coast of San Diego.
The clip shows a radar screen in which several objects can be seen moving around the ship. "Holy sh*t! They're moving fast...They're turning around," an unidentified man is heard saying. Corbell, the filmmaker behind the documentary 'Bob Lazar: Area 51 & Flying Saucers', said that the footage is "corroborative electro-optic data demonstrating a significant UFO event series."
Earlier this month, Obama, on James Corden's 'The Late Late Show', was asked about the issues of UFOs, which has remained on the fringe for a long time. The former president acknowledged that there's evidence on mysterious objects with inexplicable behaviour that "we can't explain." "They did not have an easily explainable pattern, and so, you know, I think that people still take seriously trying to investigate and figure out what that is," Obama said. "I have nothing to report to you today," he added.
Also Read | 'Hate to say this': Pilot reported UFO sighting, FBI 'aware' of incident
The theories around UFOs have become mainstream in recent times, especially after the US Navy released seven incident reports last year, revealing more details about the series of encounters between Navy pilots and 'unidentified aerial phenomena'. In December 2020, a unique 180-day countdown for US intelligence started when President Donald Trump signed a massive $2.3 trillion Covid-19 relief and government spending bill into law.
The Intelligence Authorization Act for Fiscal Year 2021 was a part of the spending bill under which the Senate intelligence committee directed the intelligence agencies to submit a report on "unidentified aerial phenomena" within 180 days. The committee has directed the federal agencies to identify potential national security threats posed by UFOs and to assess the possibility of an adversary nation behind such activities.
The intelligence report on UFOs is expected in June as former federal officials have hinted that the unclassified report will include unexplainable events.
"Ultimately when you have exhausted all those what-ifs and you're still left with the fact that this is in our airspace and it's real, that's when it becomes compelling, and that's when it becomes problematic," Luis Elizondo, former director of the defense department's Advanced Aerospace Threat Identification Program, told "60 Minutes".
Close Story
Personalise your news feed. Follow trending topics