Husband Bill Clinton pitches 'real' Hillary to Democrats, supporters
The former US president deployed his skill to pitch his wife, Hillary Clinton, who became the first woman presidential candidate to ever be nominated by a major US party on Tuesday.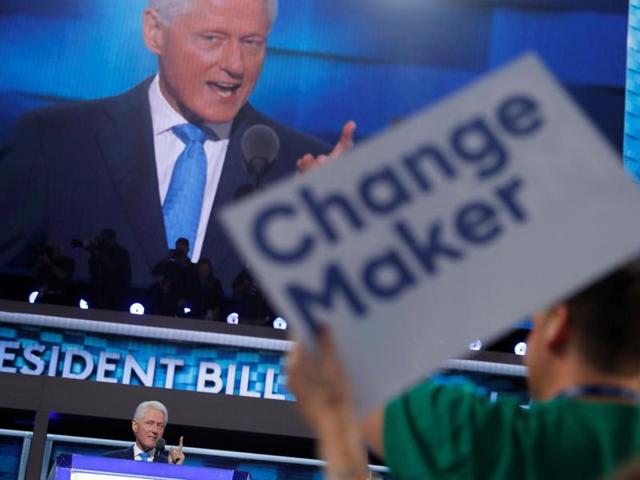 Updated on Jul 27, 2016 12:37 PM IST
Former president Bill Clinton is called the explainer-in-chief for his ability to break down even the most complex of issues into elements easily understandable to most people.
He deployed that same skill to pitch his wife, Hillary Clinton, who, on Tuesday, became the first woman presidential candidate to ever be nominated by a major US party.
Read | Hillary Clinton makes history as first woman White House nominee
He made a case for the "real" Hillary against the one, he said, was heard about at the Republican convention last week. "One is real, the other is made up."
Excerpts from Clinton's speech:
The girl he wooed: Clinton showed a side of Hillary the country come to take for granted to an extent, given her scripted and studied behaviour in public. And so, he described her form the first time he saw her. "She had thick blond hair, big glasses, wore no makeup, and she had a sense of strength and self- possession that I found magnetic." He talked a bit about how he got to know her, in a way reintroducing Hillary to the country.
Read | Bill Clinton tells love story to make case for Hillary
A girl from regular family: Her father was "crusty" and conservative, brothers were "rambunctious" sports fans and the mother was more liberal than the boys. Her childhood made his own look like a piece of cake — Bill lost his father before he was born. "She was easy to underestimate with her soft manner and she reminded me all over again of the truth of that old saying you should never judge a book by its covers. Knowing her was one of the greatest gifts Hillary ever gave me."
A young woman committed to public service: It was Hillary Clinton who intruded her husband to public service, turning him to a direction that would take him to White House one day. She became a Democrat in college because of her support for civil rights and opposition to the Vietnam War. After law school, she began taking suspected child abuses case, and continued her work for children for a long time after. "Hillary opened my eyes to a whole new world of public service by private citizens." And, in a thinly-veiled reference to her rival Donald Trump, the former president said, "She never made fun of people with disabilities; she tried to empower them based on their abilities."
Read | Bill Clinton portrays Hillary as 'change-maker' in speech to Democrats
A wife, best friend, equal partner: Hillary finally said yes, when he asked her the third time, ignoring his advice to pursue her own career. After he was elected governor, he asked her to look at heart care issues, which she did throwing herself into it with known enthusiasm. Soon the young couple became parents, and Hillary was now first and foremost a mother, becoming somewhere along the way, the former president said, the family's designated worrier — an extra-responsibility gene, which, he left unsaid may explain her no- or-low risk approach to life.
A politician herself, senator and secretary of state: As first lady, she pursued some of president Clinton's big-ticket programmes even if they didn't succeed, such as the ambitious health-care reform efforts. Clinton went on to list out her work, painstakingly singling out each of them, saying Hillary had "compiled a really solid record, totally progressive on economic and social issues". As secretary of state, he said she built an impressive portfolio of achievements and initiatives, pointing out that "the approval of the United States was 20 points higher when she left the secretary of state's office than when she took it".
Close Story