Idols at 14 Hindu temples vandalised in Bangladesh: Report
Feb 06, 2023 12:43 PM IST
Expressing concern over the incident, Kashinath Singh, a resident spoke to the local media and demanded quick action. "We are in a state of panic. Those involved in this incident should be arrested quickly."
As many as 14 Hindu temples in Bangladesh were vandalised by "unidentified miscreants" on the intervening night of Saturday and Sunday, sparking fear among locals. The incident took place in Baliadangi Upazila area, news agency ANI reported citing local media.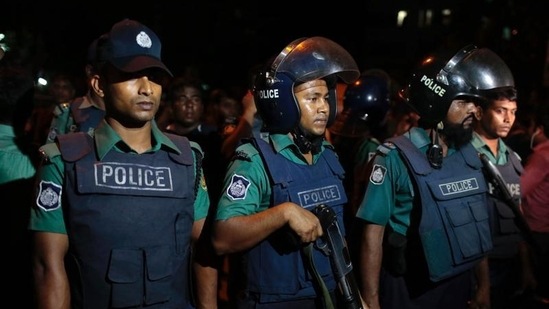 Expressing concern over the incident, Kashinath Singh, a resident spoke to the local media and demanded quick action. "We are in a state of panic. Those involved in this incident should be arrested quickly."
Also Read| 'Like India...': What Australia said over attacks on Hindu temples
Deputy commissioner of Thakurgaon district Mahbubur Rahman, superintendent of police Mohammad Jahangir Hossain and Hindu Buddhist Christian Oikya Parishad Thakurgaon district general secretary Prabir Kumar Gupta, who inspected the area following the incident, said nine idols in the Sindurpindi area of Dhantala union, four in Collegepara area of Paria union and 14 idols in a temple in Sahbajpur Nathpara area of Charol union were vandalised.
We are trying to identify those involved in the incident. The truth will be revealed after investigation," an official said.
Also Read: Anti-India graffiti on heritage Hindu temple in Canada, probe on
District Puja celebration parishad members called the incident "appalling" and demanded a fair probe into the matter.
"The culprits dismembered the arms, legs, and heads of the idols," Vidyanath Burman, general secretary of the upazila puja celebration parishad said, urging the administration to take stringent measures in the matter.
"This is very sad and appalling. We want a fair investigation into this incident," said another member Tapan Kumar Ghosh, who serves as the general secretary of the district puja celebration parishad.
(With inputs from ANI)