Simply reviewing H-1B programme is too little too late, say US lawmakers
Updated on Jul 19, 2017 03:41 PM IST
The executive order signed by President Donald Trump calling for a review of H-1B visas is too little and too late, US lawmakers said.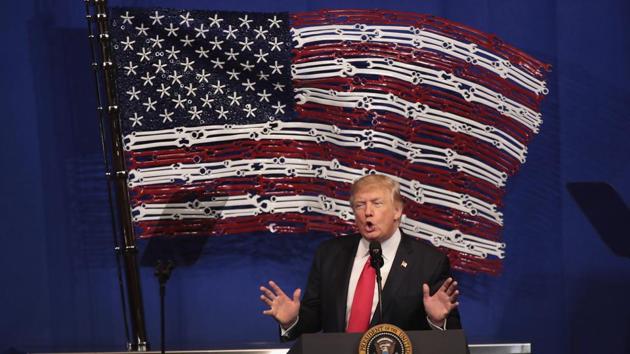 The executive order signed by President Donald Trump calling for a review of H-1B visas is too little and too late, US lawmakers said, even as more half a dozen legislations on reforming the programme remain pending in the House of Representatives and the Senate.
"We already know H-1B visa abuse hurts American workers. Simply reviewing the program is too little, too late," Senator Dick Durbin said after Trump signed a the order directing his administration to review the functioning of the system.
US lawmakers have already tabled more than half a dozen legislations in the Congress with specific proposals to reform and improve the H-1B visas systems. Many of those proposals, as per industry body Nasscom, are discriminatory and are targeted towards Indian IT companies.
Trump's long-awaited executive order drew sharp reactions from the opposition Democrat lawmakers and the sponsors of these legislations, but drew applause from the treasury benches.
"I applaud President Trump for his efforts to spur job creation, economic growth, and American competitiveness by improving our country's high-skilled immigration programs, said House Judiciary Committee Chairman Bob Goodlatte.
"The President's Buy American, Hire American Executive Order directs the Secretaries of the appropriate agencies to examine the H-1B visa program and identify reforms that will root out fraud and abuse to ultimately make the program more workable for American businesses while protecting American workers," he said.
The H-1B visa program allows US employers to hire foreign specialty workers in technical and highly-skilled fields, like engineering, medicine, mathematics, and science. These workers receive a non-immigrant visa that can last as long as six years.
Congressman Bill Pascrell, Ranking Democrat on the Ways and Means Subcommittee on Trade, alleged that the executive orde is yet another "broken promise" from Trump, who told the American people that he would end the H-1B visa program.
"For far too long the H-1B visa has been abused by some as a cheap way to replace American workers. With no mandated timeframes and no changes to the law, today's executive order cannot solve the underlying problem," Pascrell said.
"I have introduced bipartisan, comprehensive reform legislation to improve the H-1B visa program to ensure foreign workers are not underpaid and Americans are sought to be hired first. Real reform must happen legislatively. The Administration should come to the Congress and work with us on changing the law," Pascrell said.
Senator Chuck Grassley, an author of legislation to reform the H-1B and L-1 skilled work visa programs, said it is time to take action against the abuse of H-1B visa system.
"The H-1B program was designed to fill gaps in America's workforce with highly-skilled foreign workers, but as we've seen in recent years, the program has been abused and exploited at the expense of American workers and most- qualified foreign workers," he said.
"We've seen companies use the program to fire American workers and replace them with lower-paid foreign counterparts. The visa lottery system makes this problem worse by rewarding visas randomly, instead of prioritising foreign workers with greater experience, skill, and qualifications," he added.
"I've introduced bipartisan legislation with Senator Durbin to address these problems, and I've expressed to President Trump the need to take action to restore the integrity in the H-1B Program," Grassley said.
Democratic Senator Sherrod Brown meanwhile applauded Trump for the executive order.