Two new countries apply to join BRICS, will 'add value'. Details inside
Jun 28, 2022 02:31 PM IST
The 14th BRICS summit was held last week (via video conference) with China playing the host and the 15th will be in South Africa next year.
Two new countries - Iran and Argentina - have applied to join the increasingly influential BRICS - Brazi, Russia, India, China and South Africa - grouping, an Iranian official said Monday, according to news agency Reuters.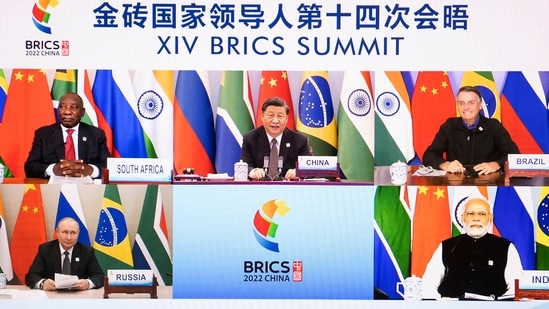 The official said Iran's inclusion in BRICS would result in 'added values for both sides'. Argentina officials have not commented so far but a Russian foreign ministry spokesperson confirmed the application. Argentina president Alberto Fernandez wrote on Telegram '... Argentina and Iran applied to join the BRICS'.
The most recent BRICS meeting was held last week (via video conference) with China as the host country and the next is scheduled to take place in South Africa next year.
Speaking at the China summit, prime minister Narendra Modi called on the global grouping to provide mutual support in designation of terrorists - a comment made days after China blocked a India-US proposal to designate Pakistan-based Abdul Rehman Makki as an international terrorist.
Russia, meanwhile, has long been pushing to forge closer ties with Asian, South American and Middle Eastern countries and has re-doubled efforts recently to weather sanctions imposed by Europe, the United States and other countries over its invasion of Ukraine.
On Monday, the US and other Western nations pledged unwavering support for Ukraine after 28 civilians were killed in Russian attacks, including a twin missile strike on a crowded shopping centre.
US president Biden also raised the tariff rate on certain Russian imports to 35 per cent as a result of suspending Russia's 'most favoured nation' trading status.
Over 1,000 people were believed to be inside the mall in Kremenchuk, Ukraine president Volodymyr Zelenskiy said. The governor of the region said three dozen are still missing.
Over the course of the war - now in its fifth month - Ukraine has repeatedly accused Russia of deliberately targeting civilians and its soldiers of war crimes. Russia has denied the allegations and says it is carrying out a 'special military op' to disarm Ukraine and protect it from fascists.
With input from Reuters, PTI