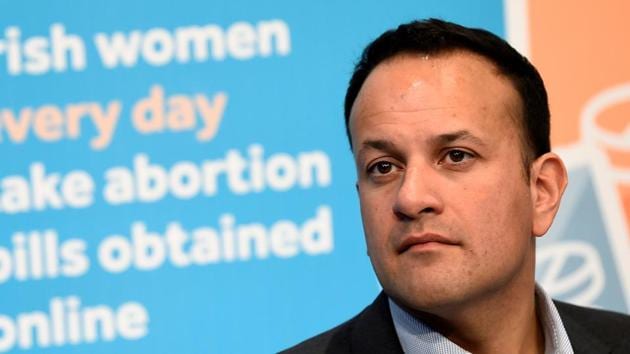 UK peer calls Irish PM Varadkar 'a typical Indian', denies being racist
Lord Kilclooney, a member of Britain's House of Lords, responded to a BBC headline on Twitter which read: "DUP: Varadkar's visit to Northern Ireland showed 'disrespect'". Kilclooney tweeted back with the words, "Typical Indian".
UPDATED ON MAY 01, 2018 09:24 PM IST
A member of the House of Lords has triggered a race row after he referred to Irish Prime Minister Leo Varadkar — who reportedly visited Northern Ireland without following protocol — as a "typical Indian".
John Taylor (Lord Kilclooney) tweeted the comment in response to a BBC report which quoted Democratic Unionist Party MP Jeffrey Donaldson as saying that the Monday visit by Varadkar — born to an Indian father and Irish mother — was "outside of normal protocol" and showed "poor manners".
Taylor, a former deputy leader of the Ulster Unionist Party, quickly denied the charges of racism: "I am certainly no racist and in particular have an admiration for Indians. A member of the British/Indian APPG (all-party parliamentary group), only yesterday I had a reply from 10 Downing St asking for a relaxation of visas for Indians... My point was that the PM had upset Unionists more than Irish PMs had!"
He added: "It is not racially abusive as he himself has confirmed he is half Indian. That is great and not to be dismissed as the Indians are a great race."
However, by then the damage was done. Former Ulster Unionist leader Mike Nesbitt tweeted that the comment could only be interpreted as racist.
Naomi Long, the leader of Alliance Party of Northern Ireland, said Taylor was "an embarrassment", telling BBC that the comment was a "slur on all Indian people with his use of the word typical", adding that she wanted the speaker of the House of Lords to raise the matter with him.
Democratic Unionist Party MLA Christopher Stalford tweeted: "I don't know what John Taylor (Lord Kilclooney) thinks he's playing at but he doesn't speak for me. Absolutely ridiculous behaviour."
This is not the first time that Taylor has played up Varadkar's Indian roots. In November, he had referred to Varadkar as "the Indian", but later withdrew the comment.
This fact was not lost on Irish senator Niall O Donnghaile, who said he would ask the speaker of the Irish senate to contact the speaker of the House of Lords, "urging him to take appropriate action regarding yet another offensive tweet from a member of the House of Lords regarding... Varadkar".
For his part, Varadkar has dismissed the allegation of not following protocol — he said he had informed the Northern Ireland office about his trip across the border.
"I can assure anyone that I am not an invader, I just want to be a good neighbour. I received a very warm welcome in Northern Ireland today," he said, after visiting Armagh and Down counties.
However, Taylor claims Varadkar damaged relations between Northern Ireland and Ireland by making what he called a "provocative" visit. "He has damaged North/South relations by being continually offensive and provocative to the Unionist majority in NIreland," Taylor tweeted.
Close