US cops confirm body found is that of missing 3-yr-old Indian girl Sherin Mathews
Updated on Oct 24, 2017 11:32 PM IST
The Richardson Police earlier announced that they discovered the remains of the child in a tunnel beneath a road, expressing apprehension that it was 'most likely' that of Sherin Mathews.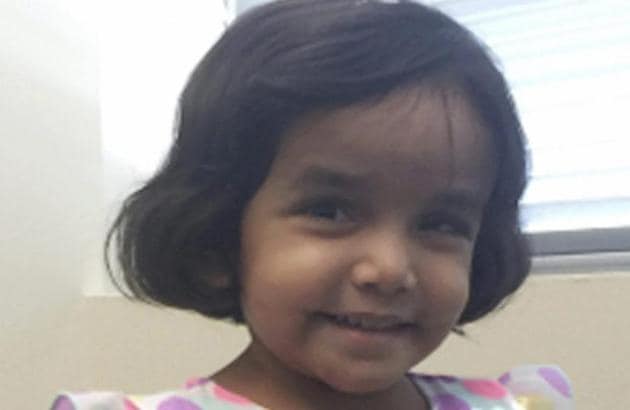 The body of a child found in Richardson, Texas was on Tuesday identified as that of Sherin Mathews, the three-year-old Indian girl reported missing from outside her home two weeks ago, after her father, Wesley Mathews, was arrested for the second time and charged with causing injury to a child.
The Dallas County Medical Examiner identified the child's body, which was found on Sunday, by using dental records, police said. The cause of death is still unknown.
Police said Wesley, 37, who came to speak to investigators voluntarily accompanied by his lawyer, offered a contradictory version of events around the disappearance of his daughter on October 7. "It was not what he had told us earlier," Sergeant Kevin Perlich of Richardson police told reporters.
Perlich refused to spell out the contradictions, saying the case was still under investigation and that there was a possibility of additional arrests and modification of charges.
However, media reports said Wesley, who adopted Sherin from India last year, initially said she disappeared after he sent her outside the house at 3 am as punishment for not drinking her milk. He later said she choked on milk and he disposed of her body after she died.
Wesley was booked into the Richardson city jail after the interview. Perlich said he was being charged with causing injury to child, a Level 1 felony that can get him from five years to 99 years in prison if found guilty.
After finding the body of a child near a culvert on Sunday, police said it was "most likely" that of the three-year-old child who had been the subject a massive search involving drones and search dogs.
Wesley and his wife Sini Mathews, who are from Kerala, had adopted Sherin in Nalanda, Bihar. She was undernourished and weak then and grew up lacking communications skills of someone her age. The couple has an older child, who has been placed in foster care by the authorities.
Wesley initially told police he sent Sherin out of the house to stand in an alley as punishment. When he back for her 15 minutes later, she was not there. Wesley claimed he went to do the laundry and decided to wait for her to return. His wife was in bed then, and was unaware of these events.
The family informed the police at 8 am, five hours later, and Wesley was arrested later that day and charged with endangering the life of a child, a Level 2 Felony, with a less severe punishment. He has released on bail, but was made to wear an electronic monitor strapped to his ankle.
He and his wife appeared before a local judge on Monday to determine if they can regain custody of their other child, who has been removed from the family by child protection services and placed in foster care. The judge postponed the hearing to November 13 to enable the Mathews to hire a civil attorney.
Wesley spent Monday night at the city jail of the police department and is expected to be transferred to the county jail on Tuesday, unless he posts a bond of $1 million.
(with inputs from agencies)
Personalise your news feed. Follow trending topics