US recognition of Jerusalem as Israel's capital 'null and void': 128 nations, including India, defy Trump at UN
India also voted in favour of declaring US's recognition of Jerusalem as Israel's capital 'null and void'.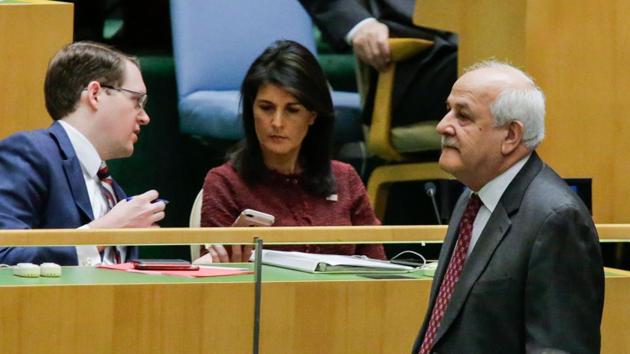 Updated on Dec 22, 2017 10:33 AM IST
Hindustan Times, Washington | By Yashwant Raj
, Washington
India joined an overwhelming majority of UN member countries to vote for a resolution criticising the United States for recognising Jerusalem of Israel bucking an international consensus lasting decades.
The resolution was adopted with the support of 128 countries, with nine voting against and 35 abstaining.
The United States faced complete isolation and humiliation in the world body, which disregarded Trump's threat of cutting US aid to countries that backed it, a move that brought the United States further criticism for "bullying".
India has long held an "independent and consistent" position on Palestine, as the ministry of external affairs said earlier this month, and that "it is shaped by our views and interests, and not determined by any third country". Its explanation of Thursday voted was awaited at the time of writing of this report.
"The vote today was consistent with India's past position on this issues and Palestine," a diplomatic source said on background, "where was the question of us not voting for the resolution."
The vote is not a reflection on ties with both the united States and Israel — "look at who voted for the resolution and who didn't — even their closest allies were not with them".
"This was a lost vote from the start, for the American."
The US president's threat came a day after his ambassador to the UN Nikki Haley said the United States will be "taking names" as "we don't expect those we've helped to target us". She had just vetoed to defeat a proposed resolution in the Security Council asking America to reverse its decision.
The resolution, which is non-binding went through as anticipated given the overwhelming support a similar resolution received in the UN Security Council Monday — 14 of its 15 members, including allies Franc, Britain and Italy, voted in favour of the resolution which failed only because the US vetoed it. There are no veto pawers in the general assembly, where all 193 members have the same one vote each.
"Let them vote against us," President Trump had said Wednesday, adding, without making any attempt to mask the threat, "We'll save a lot. We don't care. But this isn't like it used to be where they could vote against you and then you pay them hundreds of millions of dollars," he said.
"We're not going to be taken advantage of any longer."
Haley echoed the sentiment in remarks on the floor of the general assembly. "When we make generous contributions to the UN, we also have a legitimate expectation that our good will is recognized and respected. When a nation is singled out for attack in this organization, that nation is disrespected. What's more, that nation is asked to pay for the 'privilege' of being disrespected."
The United States came in for strident criticism during the general assembly debate not only for recognizing Jerusalem as Israeli capital but also for threatening UN countries to not vote for the resolution condemning it's decision. "Such an attitude is unacceptable. This is bullying," said Turkey's foreign minister Mevlut Cavusoglu.
The draft resolution, which is moved by Turkey and Yemen and co-sponsored by Iran, Pakistan and others, cited past Security Council Resolutions to say "that all states comply with Security Council resolutions regarding the holy city of Jerusalem, and not to recognize any actions or measures contrary to those resolutions".
It's similar in nature and texture to the resolution vetoed Monday. It was moved by Egypt which could be in real danger of being hit adversely for its vote as recipient of $1.2 billion aid in 2016. Pakistan, another major recipient of US aid, is a co-sponsor of the UN general assembly resolution. "United States should decide whether to stand with the world or an occupying force which is the reason for instability and chaos in the Middle East," Pakistan's permanent representative to the UN Maleeha Lodhi said in statement. "Pakistan is among the countries which have co-sponsored this resolution."
Pakistan is already under notice from the United States for not doing enough on counter-terrorism — despite all the money they take, President Trump has said — and its co-sponsorship of the Jerusalem vote is unlikely to go down well in the White House where someone is sitting with a checklist.
Or in New York. "As you consider your vote, I encourage you to know the president and the US take this vote personally," Haley said in a letter to UN member nations ahead of the general assembly vote. "The president will be watching this vote carefully and has requested I report back on those who voted against us."
Close Story