Video of man dancing to 'Besharam Rang' viral as people think he's Bilawal Bhutto
Jan 22, 2023 02:54 PM IST
Social media users made fun of Pakistan foreign minister Bilawal Bhutto as the video of Mehroz Baig, a Karachi student, dancing to Besharam Rang, went viral.
A video of a Pakistani man dancing to 'Besharam Rang' -- the 'controversial' song from Shah Rukh Khan's upcoming movie Pathaan is viral as social media users mistook the man as Bilawal Bhutto, the foreign minister of Pakistan. As Pakistan's foreign minister became the target of social media humour for his impeccable moves, Bilawal-lookalike was identified as Mehroz Baig, apparently a student of media sciences from Karachi.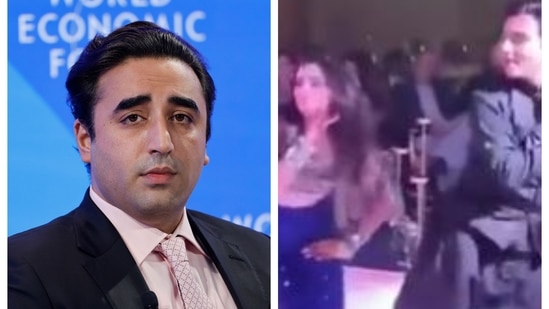 The viral video was traced to Instagram user Inaya who was seen dancing in the video along with the 'Bilawal-lookalike'. In the caption of the original video, it was mentioned that the dance performance was part of Inaya's sister's wedding.
Recently, a video of the Pakistan foreign minister was viral from Davos where he was seen smoking outside a building at the World Economic Forum while his bodyguards kept a watch on him. In that video, however, it was Bilawal himself and not any lookalike.
Bilawal has been in the news for spewing venom against India on international platforms. In December 2022, the BJP held a nationwide protest against Bhutto's personal attack against Prime Minister Narendra Modi and the RSS.
In the World Economic Forum in Davos, Bilawal again raked up the Kashmir issue and it's ironic that UNSC resolutions mean so much to Europe and the West but 'are nothing more than the paper they are written on' when it comes to Jammu and Kashmir.