Family of Jet Airways employee in blast photo will fly to Belgium
The family of an Indian Jet Airways employee wounded in the Brussels attacks and whose image was pictured on newspapers around the world will soon join her in Belgium.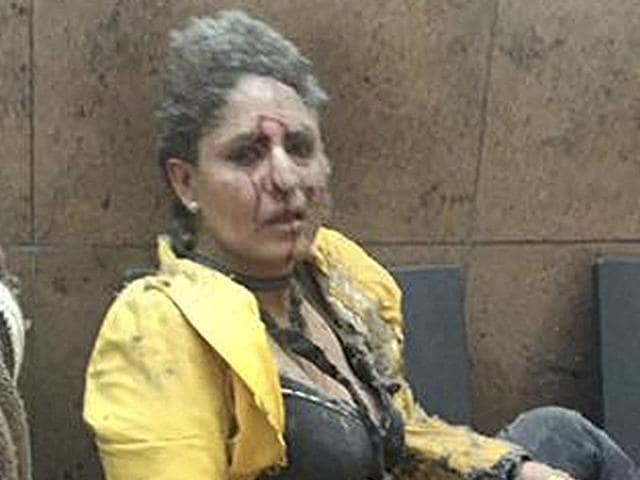 Updated on Mar 23, 2016 09:33 PM IST
The family of an Indian Jet Airways employee wounded in the Brussels attacks and whose image was pictured on newspaper front pages around the world will soon fly out to join her, a relative told AFP on Wednesday.
Three bombs ripped through Brussels airport and a metro train on Tuesday, leaving over 30 people dead and more than 250 wounded, including Jet Airways employee Nidhi Chaphekar, a flight attendant from Mumbai.
A haunting photograph of a dazed Chaphekar covered in debris, that surfaced soon after two massive suicide blasts hit Zaventem Airport, became one of the most widely published images of the bombings.
In the photo, also shared by millions on social media, the mother of two is pictured in the tattered remains of her yellow Jet Airways jacket, missing a shoe and with blood running down her face.
"Depending on when the next earliest flight out of the country is, my brother and I will be leaving by tonight or tomorrow morning," the 40-year-old flight attendant's brother-in-law, Nilesh Chaphekar, told AFP by telephone.
"We haven't been able to speak to her directly yet. All we know is that she is in stable condition now," he said, adding that "it has been a very traumatic experience".
Jet Airways said that both Chaphekar and another employee who was also hurt in the blasts, Amit Motwani, were both recovering well and that it had made arrangements for both families to fly to Brussels.
"Based on latest updates from #Brussels, our colleagues Nidhi and Amit are recovering well. We look forward to welcome them home soon," the airline posted on Twitter on Wednesday.
It was not immediately clear when the employees were expected back in their homes in Mumbai, India's financial capital.
Many online websites have criticised the publishing and sharing of Chaphekar's photo, saying that her privacy should be respected.
"It's sad how insensitive media & SM (social media) is being, in broadcasting @jetairways's injured crew member's photo. Respect her privacy please!!!," tweeted Indian actress Gul Panag.
Separately, an Indian employee of Infosys is said to be missing in the aftermath of the attacks, the Bangalore-based software firm said on Wednesday.
"We are trying to reach one employee with whom we have not been able to connect," the IT outsourcing firm said in a statement.
Infosys said it was in touch with the missing worker's family and authorities in the Belgian capital in an attempt to locate the employee.
Close Story