NRIs' American dreams crash with red lights for Green Card seekers
Updated on Oct 18, 2015 07:21 AM IST
Thousands of Indians who came to the US on temporary work visas, or as students, and wish to stay on legally on a Green Card find themselves in a tricky situation.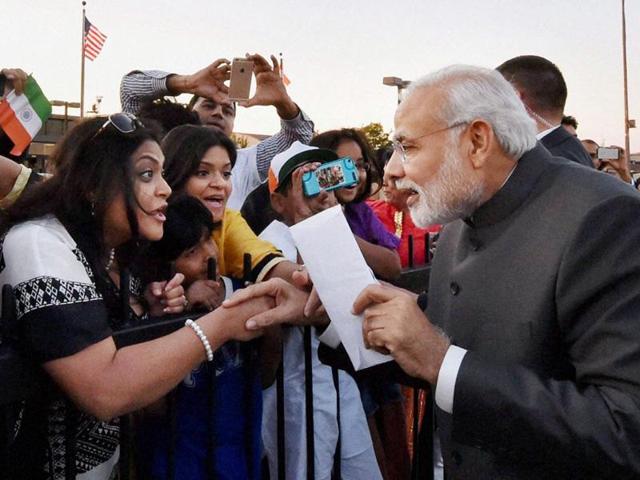 Hindustan Times |
Yashwant Raj
Namit Gupta, a 25-year-old software developer, will be 95 by the time he becomes eligible for a Green Card, the last stop to US citizenship. Unless he does something drastic. Joining the military, for one, could improve his chances of getting there sooner. His second option: pack up and head home to India, his dreams smothered and buried.
Thousands of Indians who came to the US on temporary work visas, or as students, and wish to stay on legally on a Green Card find themselves in a similar situation: frustrated and dejected. Many say they had no idea what they were getting into when they first arrived with dreams of making it in a country of immigrants and endless opportunities.
"We are pretty much enslaved here," said Anuj Dhamija, a project manager at TJX, which runs TJ Max retail stores around the world.
Dhamija is in the US on a temporary work visa and his application for a Green Card, sponsored by his employer, has been rejected twice. He is now pinning his hopes on his wife, a professional doctor whose application has been accepted.
But she is not expected to get there before 2025-30.
"By then," Dhamija said, "both of us will be in our high 50s, way past our ability to take risks to build a decent career."
The US grants around one million Green Cards — called Lawful Permanent Residencies — every year, but they are not enough to take care of a mounting backlog of pending applications.
With a country-wise cap of 7%, applicants from China and India get the maximum Green Cards every year, after neighbouring Mexico — with 71,798 and 68,458 respectively in 2013.
That's clearly not enough. US Citizenship and Immigration Services says there is a backlog of 234,000 though other estimates put the number at 1.1 million, about 85% of them Indians.
The line may move faster in some categories, depending on the qualification of the applicant, but it's a tedious crawl for most Indians.
Rules of the queue prevent them from changing jobs as that would start the whole process all over again. Even lateral mobility — at the same salary — is prohibited, as applicants must stay in the same position with the same job description for which their recruitment was authorised.
Many of them don't leave the country — even miss parents' funerals in some cases — as they fear losing their place in the queue because of a new entry stamp on their papers.
When Mamata Pabba's father-in-law suffered a heart attack, she and her husband, a software developer at Oracle, decided she should go instead, so as to not lose their place in the line.
Central to the wait is a monthly government announcement, called Visa Bulletin, about the new cut-off date for those whose turn has come to pick up their Green Card. A recent procedural change that promised to speed up the process considerably brought them rare joy, which turned into grief soon when it was rolled back partially.
Many of them hoped Prime Minister Narendra Modi, who was in the US recently, would raise their plight in his many meetings.
They have since returned to waiting, watching their lives pass them by: overlooked for promotions at work, unable to plan for a life beyond their visa years, and unable to leave the country.
Most of them recognise they can easily return to India, but argue that US is their home now, and has been one for some years.
"I have given this country 10 years of my life," said Pragnesh Somaiyya, a premier field manager with Microsoft. "I am an alien in my country of birth and in the country I live in."
They petition politicians as a group, lobby Congress and the administration to highlight their plight. Immigration Voice, an outfit that represents them and has had a chance to depose in congressional hearings, believes this group is being discriminated against.
"You think anyone would have treated us like this if we were of Hispanic origin," Aman Kapoor of Immigration Voice said. "They treat us so only because we are of Indian origin."