Suu Kyi sidesteps Rohingya migrant crisis for political pragmatism
Aung San Suu Kyi's refusal to speak up for the Rohingya migrants has cast doubt over her moral force.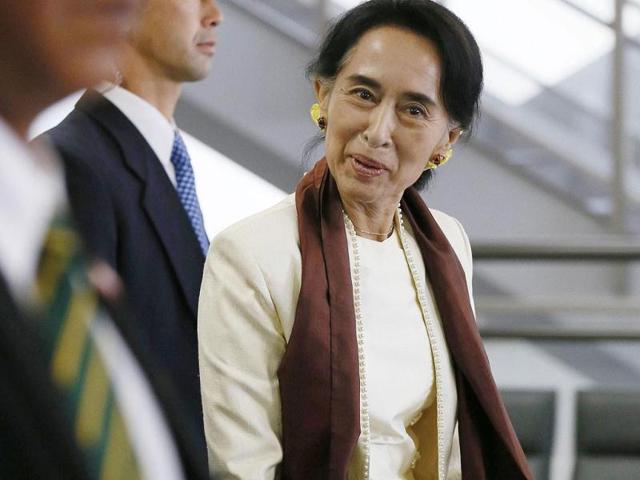 Updated on May 29, 2015 02:23 PM IST
Aung San Suu Kyi's refusal to speak up for the Rohingya migrants has cast doubt over her moral force and even earned a gentle rebuke from fellow Nobel laureate the Dalai Lama.
Images of hungry migrants from Myanmar and Bangladesh hauled from vessels to Southeast Asian shores after months at sea have spurred calls for immediate humanitarian action. Attention has swung to strife-torn Rakhine state in western Myanmar, where tens of thousands of stateless Rohingya Muslims live in dire displacement camps desperate to leave.
Regional nations gathered in Bangkok on Friday to discuss the issue.
In pics: Rohingya migrants take the 'ferry of death'
Myanmar government has been wavering between offering some assistance to stricken migrants and denying any responsibility for their exodus. International rights groups have found little support from Suu Kyi.
Her absence from the discussion has been so conspicuous that the Dalai Lama urged Suu Kyi last week to help them out in this regard. "It's very sad. In the Burmese (Myanmar) case I hope Aung San Suu Kyi, as a Nobel laureate, can do something," he told Thursday's edition of The Australian newspaper. The Buddhist spiritual leader said he recognises the difficulty of her position in a nation where expressing sympathy for the Muslim group brings ready condemnation. "But in spite of that I feel she can do something," he added.
Suu Kyi spent more than 15 years locked up by the former junta for her tireless campaign for democracy in Myanmar. Since her release from house arrest in 2010, Suu Kyi's role has been recast from a defiant human rights defender to a hard-nosed political actor preparing to lead her opposition party into elections later this year.
While Myanmar's government carries the main responsibility for the plight of the Rohingya in the country, deputy Asia director for Human Rights Watch Phil Robertson lamented the veteran activist's failure to use her "moral authority" to press for a better deal for them.
But just months away from the best chance of electoral victory of her political career, Suu Kyi faces pressure in the opposite direction, as public opinion inside Buddhist-majority Myanmar hardens against the Muslim minority Rohingya.

Suu Kyi's National League for Democracy says it is firmly against the controversial religious bills, which are seen as discriminatory to women and minorities.

On May 19 Suu Kyi said Myanmar's "government has to solve the issue" in her only direct public comments on this crisis.
Against a backdrop of visceral hatred towards the Rohingya and looming polls, Suu Kyi must play an "intricate game of political chess", says Peter Popham, author of a biography of the opposition leader.

Read
Myanmar rejects being 'singled out' by UN at migrant crisis talks
Protesters to UN: Don't blame Myanmar for 'boat people' crisis
Close Story
Personalise your news feed. Follow trending topics