Tillerson's India gambit indicates America's disenchantment with Islamabad
Updated on Oct 24, 2017 05:48 PM IST
Replacing the tired India-Pakistan construct which has been gradually unravelling, India-China is the favoured hyphenation for Americans focused on Asia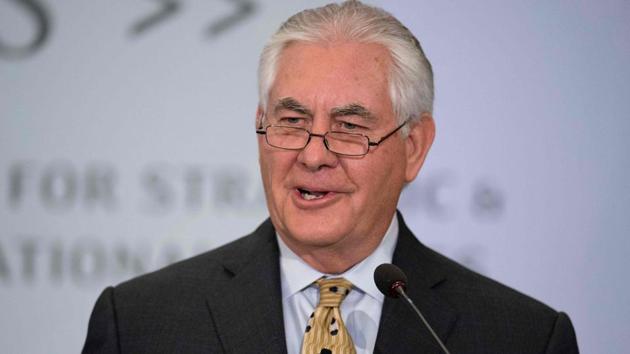 Hindustan Times |
Yashwant Raj
India-China is the new hyphenation in town for Americans focused on Asia, in place of India-Pakistan, a tired construct that began losing ground and relevance years ago as the United States soured on Pakistan, a non-NATO ally that had become more intimately allied with terrorists, and began nurturing a relationship with India that was independent of its obligations to a failing client state, which, as US President Donald Trump has told some people privately, takes American money and kills American people.
The switch was made official, in a way, last week by America's top diplomat, Secretary of State Rex Tillerson, in his first and only country-specific policy speech yet that he delivered about, and ahead of, his India visit. Tillerson's speech was a well considered strategic move, given his current precarious position in the administration. Remember MoronGate? He chose to hitch his first and most fulsome foreign policy initiative yet to a country that enjoys the widest spectrum of support in the Trump administration that is bitterly divided over old and new adversaries such as Russia, Iran, North Korea and West Asia. And Tillerson chose the platform for his premium pitch himself, the Centre for Strategic International Studies, a DC think-tank that has had him on its board of trustees for many years. That was familiar territory for an ambitious push. He even lent it a personal touch, recounting in his speech encounters when he was an oil executive with Indian officials.
Noting approvingly India's rise using a rule-based international order, Tillerson brought up China in the same breath, and proceeded to fault it for being less responsible. "China, while rising alongside India, has done so less responsibly, at times undermining the international, rules-based order even as countries like India operate within a framework that protects other nations' sovereignty." And that, "China's provocative actions in the South China Sea directly challenge the international law and norms that the United States and India both stand for." He had a few more uncharitable things to say about China, its One Belt, One Road initiative and the "predatory economics" it pursues in the guise of helping emerging economies with infrastructure development.
Tillerson sought to reassure China, in language traditionally used by Americans to mollify Pakistanis worried by its growing ties with India. "The United States seeks constructive relations with China," he said, but warned that the United States will not "shrink from China's challenges to the rules-based order and where China subverts the sovereignty of neighbouring countries". Without referring to the recent Chinese misadventure along its border with Bhutan that India foiled, he concluded, "In this period of uncertainty and somewhat angst, India needs a reliable partner on the world stage … (and), the United States is that partner."
Pakistan, the other part of the earlier hyphenation, did find a paragraph-length mention in the prepared remarks — it had to, because Tillerson is also visiting Pakistan, possibly with a laundry list of things the United States expects from it. But he made it clear, to India-obsessed Pakistanis in Pakistan and the shrinking tribe of Pakistan-obsessed Indians in India, the days of equal distribution of affections was over, saying "Our relationships in the region stand on their own merits." And in the case of Pakistan, it was about "decisive action (it needed to take) against terrorist groups based within their own borders".
The India-Pakistan construct had been unravelling in American minds, of policy makers and watchers, for a while now chiefly because of growing US disenchantment with Pakistan and its cynical alliance with terrorists especially after Osama bin Laden was found hiding in Abbotabad, a military town in Pakistan, in 2011. And a parallel rise in commercial and defence ties between India and the US in the aftermath of the 2008 civil nuclear deal. One of the first decisive manifestations of the de-hyphenation was President Barack Obama skipping Pakistan when he went to India in 2012, breaking years of US practice of presidents visiting both countries, even if the Pakistan leg lasted only a few hours. Obama visited India against in 2015, becoming the first American president to visit India twice while still in office. Islamabad got merely a heads-up phone call before the second visit.
The India-China hyphenation was underway at the same time. But quietly. Policy makers and think-tankers were loathe to admit it openly and officially, arguing America's relationships with the two countries were independent of each other, and, as Ben Rhodes, an Obama aide said in 2015, "nobody is aiming for confrontation with China or even to contain China. But there was growing and palpable urgency in background conversations that the United States must work with India to contain China, or as some Americans contended, using phraseology that would alarm Indians, the US must use India to balance China. Some members of George W Bush's administration had in private conversations discussed that one of the benefits of better strategic ties between India and the US, in the context of the nuclear deal, was to be able to work together to counter China, or act as a counterweight to China. In all, it would seem that India's stock is up with the US.
yashwant.raj@hindustantimes.com
Personalise your news feed. Follow trending topics