No cultural festival for Ramjas College students after violent protests?
Updated on Mar 13, 2017 08:47 AM IST
The students' union of Ramjas College, under Delhi University, has had to put the preparations of the annual cultural festival, Mosaic, on hold amid student clashes on the college campus.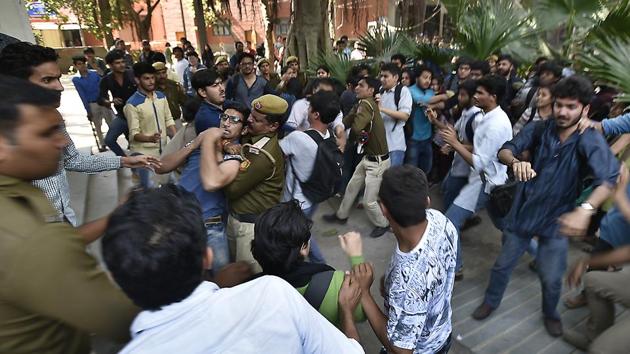 It's the season of annual cultural festivals in Delhi University colleges. However, for the students of Ramjas College, a fest seems to be a distant dream amid the ongoing protests and student clashes on the campus.
The protests, tension and imposition of Section 144 (penalising unlawful assembly armed with deadly weapon) has derailed preparations for the college's annual cultural festival, Mosaic. If things remain tense, the "fest might not even happen", says Siddhant Rathour, central councillor of Ramjas College students' union.
The protests had begun over the presence of Umar Khalid, the controversial JNU student who came to Ramjas for a seminar recently. A section of the students, including activists of Akhil Bharatiya Vidyarthi Parishad, demanded that Khalid be sent back.
"We've had to put all fest preparations on hold ever since protests broke out in the college. Abhi toh classes bhi nahi ho pa rahi hain," says Yogit Rathi, president of the students' union. "We'll be able to resume any preparations only once things are peaceful."
Rathour says, "We've had no time to think about the fest in the past few days. Frankly, I'm not very hopeful that we will even be able to organise the fest this year, given the tension in the college. The fest was scheduled for March, because later everyone will get busy with exam prep."
The protests over the presence of Umar Khalid had escalated quickly into sloganeering and stone-pelting. Students of other colleges also joined in.
Personalise your news feed. Follow trending topics