Pandit Jasraj on his life-long love for music
Updated on Apr 01, 2017 07:27 AM IST
The acclaimed classical vocalist will perform this weekend at one of India's oldest music festivals.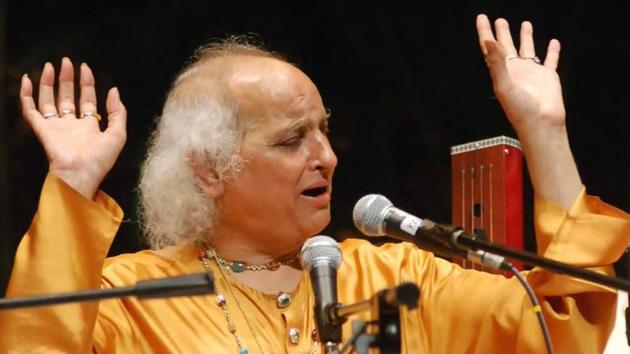 There is an anecdote often narrated about the power of Pandit Jasraj's voice. When he was performing raga Todi at a concert in Varanasi in 1996, a deer ran into the venue and stood by the stage, enthralled by his singing. Much like the 16th century singer Tansen, who according to legend, drew out a herd of deer while singing the same raga during a court performance in Agra.
"It was about 6am in the morning and there were over 5,000 people in the audience," he recalls. "It was a good omen. I offered a namaste to the deer and continued singing."
One of India's best classical vocalists, Pandit Jasraj, 87, was born in Hisar, Haryana, in a family of classical musicians of the Mewat gharana. His father, Pandit Motiram, a noted classical singer, passed away when Pandit Jasraj was just 4. From a young age, Pandit Jasraj began accompanying his elder brother and first guru vocalist Pandit Maniram as a tabla artiste. At 15, stung by a musician's snide remark about his lack of understanding of classical music because he was a minor artist, Pandit Jasraj decided to take up singing. He gave his first public concert at 22.
Pandit Jasraj is known in his field not just for his voice, presentation of rare ragas and unique bandishes, but also for his innovations. He devised a new jugalbandhi style where male and female singers sing different ragas at the same time. "I had first presented this male-female jugalbandhi in Pune. When my friend Meena Phalnikar heard it, she said yeh jasraj ke rang mein rangi hui jugalbandhi hai, and termed it jasrangi."
The classical vocalist will perform in Delhi on April 2 at the 70th edition of the Shriram Shankarlal Music Festival, one of the oldest music festivals in India. Organised by the Shriram Bhartiya Kala Kendra, the four-day event began on Thursday with an inaugural performance by classical singers Girija Devi and Ajoy Chakraborty. This edition will celebrate the season of spring and its festivities.
"There will be songs about Holi, Chaiti (sung in the month of Chait), Ram bhajans, and Kajri (sung during the rainy season)," says festival director Shobha Deepak Singh. It was Singh's mother Sumitra Charat Ram, who founded Bhartiya Kala Kendra and the festival. Its first edition was a small informal gathering of musicians at her Curzon Road house (now the Hindustan Times office) on August 15, 1947.
"It was an all-night event," says Singh, "and artistes Pandit Ravi Shankar, Ali Akbar Khan Sa'ab, Hafiz Ali Khan, Omkar Nath Thakur, among others, attended it."
Pandit Jasraj, who has performed across India and the world in his seven-decade long career, is looking forward to the event. "Pandit Ravi Shankar, Ali Akbar Khan saab, Pandit Omkar Nath Thakur ji, Kumar Gandharva ji…such esteemed artistes have performed at the festival. It is a matter of great pride to be participating in it," he says.
So what compositions are in store for the audience? "I can't make claims that I will sing this raga or that song," he says. "Sometimes it so happens that I may decide upon a particular raga, but on the stage I may feel like singing something entirely different."
What: Shriram Shankarlal Music Festival
When: 7 pm, April 1-2
Where: Shriram Bhartiya Kala Kendra lawns, 1 Copernicus Marg, Mandi House
Nearest metro station: Mandi House
Entry is free
Close Story
Personalise your news feed. Follow trending topics