The lesser known side of singer Rekha Bhardwaj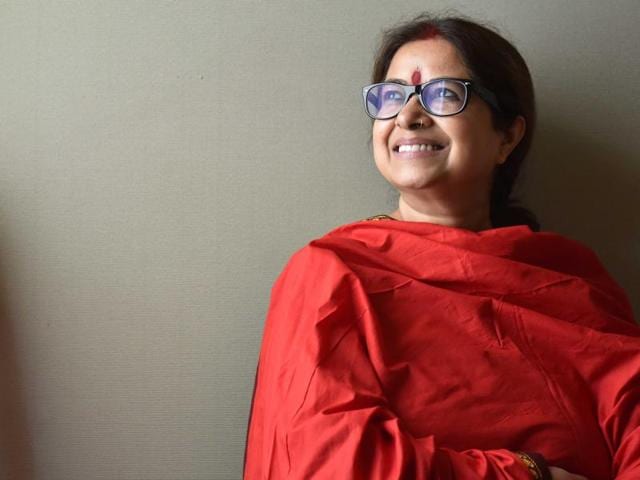 Updated on Nov 17, 2016 03:56 PM IST
Talented singer, and wife to one of India's most successful filmmakers. But there's a side to Rekha Bhardwaj – the early music training, the troubled years, the shift to Sufi music – that's lesser known
W e are at filmmaker Vishal Bhardwaj's production house in Andheri West. His National Award certificates, and a Filmfare trophy, jostle for space among books on filmmakers Satyajit Ray and Ritwik Ghatak, spiritual leader Osho, and a collection of Rumi's poetry.
Amid Vishal's accolades is one National Award certificate that stands out — the only one on the wall with an accompanying picture of the recipient. This one belongs to Rekha Bhardwaj (Vishal's wife), and the image is of her accepting it for best playback singer, female, for Ishqiya (2011). She's also won a Filmfare for best playback, female (for Delhi 6; 2009). But the trophy isn't here.
Even as we're scanning walls and bookcases, we are ushered into a small room. Sitting on a carpet, dressed in a pair of printed palazzos, a khadi kurta and a dupatta, is Rekha (52). She fusses over us, insisting we have some pistachio-flavoured cheesecake. "We get these every Diwali. I brought them to the office for everyone," she says.
Her English has a tinge of a Delhi Hindi accent. Her bearing is that of a Punjabi mother: friendly, easy-going, eager to feed her guests. She seems less in an office space, more as if she were at home.
She's chatty, too: the interview lasts two hours. But during our conversation, it becomes evident that Rekha is not your usual celebrity. Sure, her marriage to an acclaimed filmmaker helped launch her career. And she is an established playback singer. But her story, ironically, defies one of usual industry privilege. You may know Rekha thanks to Bollywood, but her commercial success has come remarkably slow.
An early start
Born into a musical family in Delhi, Rekha began singing at the age of three. "We're five sisters and one brother. All of us started singing young. Our father would organise small music sessions each month where we could sing through the night for extended family and friends," recalls Rekha.
She says she never sang a mainstream film song at these gatherings. She always chose Hindustani classical pieces or ghazals. "I'm a melancholic person. I think I must have been a heartbroken woman in my last birth. How else do you explain gravitating towards ghazals — a genre based on yearning — so early?"
It might also have had to do with her unique voice. She says it has always reflected the melancholy she identifies with — it's thin, and conveys an inherent longing.
An uphill climb
What's remarkable is that Rekha became aware of and comfortable with her unconventional voice early. Even after her marriage to Vishal, in 1991, she made peace with the fact that playback singing in Bollywood was perhaps not for her. "In the '90s, composers would always politely decline employing me," she says.
But her potential was not lost on Vishal. Having met during one of her performances at a college annual function (they both studied at Hindu College, Delhi), he was in awe of her singing talent. In 1993, he promised to compose an album for her. He got as far as composing one track, called Raat ki Jogan, based on a sonnet by Punjabi philosopher Bulleh Shah.
In 1994, during a recording session with lyricist Gulzar, for Maachis (1996; Gulzar directed it; Vishal did the music), Rekha sang the song. "Gulzar ji was impressed, and said he'd write the lyrics for my first album," says Rekha.
However, the actual recordings for the album did not take off until 2000. It wouldn't release for another two years.*
Rekha doesn't flinch as she says that one of the reasons behind the delay of her singing career was Vishal's success (Maachis followed his directorial debut, Makdee; 2002; then came Maqbool; 2003). "Gulzar ji was busy too — working closely on the soundtracks of both those films. And he had other ongoing projects," she says.
Rekha says she didn't always deal with the delays maturely. She admits to directing her frustration at Vishal. "One can hardly blame me for getting angry at my husband," she says.
Listen to Rekha speaking on her struggles
It was during these troubled times that Rekha turned to Sufism. In February, 2002, on a whim, she insisted on travelling to the Osho Ashram in Pune.
The spiritual quest
Rekha says the experience not only helped her deal with professional setbacks, but also shaped her music. At Osho, she studied the art of whirling and Zikra (a form of Islamic chanting), both of which she now performs on stage. "It introduced a certain silence in me, which I hope to pass on to the audience every time I perform. That's the essence of all music," she says.
Listen: How Sufi music helped Rekha cope with rejections
The album, Ishqa Ishqa, released in 2002, nearly 10 years since its conception. In the meantime, though, she did some playback — not prolific, but steady (films such as Chachi 420, 1997; Godmother, 1999; Jahan Tum Le Chalo, 1999). Vishal was the music director for all of them.
But the album got her recognition, and opened doors of Bollywood. She sang Namak Ishq Ka (Omkara; 2006), and followed it up with Sasural Genda Phool (Rakeysh Omprakash Mehra's Delhi 6). Earlier this year, she collaborated with Rabindra Sangeet exponent Sraboni Sen for a Sufi take on Rabindranath Tagore. Titled Tagore and We 3, the album has three songs sung by Rekha.
Now, 12 years, two albums, and a few mainstream hits later, Rekha is revisiting her painstaking first album for NCPA's annual Sufi music festival Sama'a. "Things will come a full circle with this. I haven't performed any of the album's songs live in a decade," she says.
*The story initially stated that recordings for Ishqa Ishqa began in 1997. The recordings began in 2000.
Close Story
Personalise your news feed. Follow trending topics