This exhibition by blind photographers will leave you amazed
Aug 08, 2015 04:31 PM IST
How do the visually impaired 'see' the world around them? Visit an exhibition of photographs shot by blind artists to find out.
Remember Katrina Kaif's Lux commercial from last year? The advertisement shows her twirling around in a purple gown, as visually impaired photographer Bhavesh Patel photographs her. The resultant pictures weren't all perfectly framed, but they were beautiful nonetheless.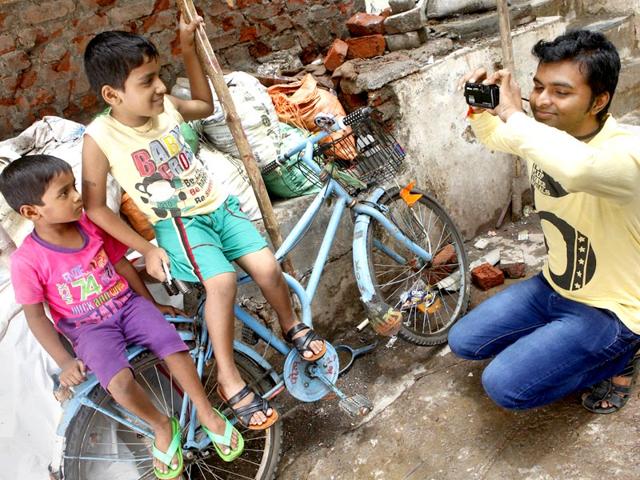 Patel's photography is a source of pride for his parents and extended family. He seems slightly embarrassed when they fuss over him as we meet at his Vikhroli residence. But that is nothing compared to the adulation he gets in his neighbourhood. Everyone knows him. We stopped on the way to ask for directions at a shop in the neighbourhood. The shopkeeper actually sent a customer — a young schoolgirl — to show us to Patel's doorstep.
The idea of a photograph shot by a visually impaired person might seem like an oxymoron. But the improbable has been accomplished by Blind With Camera, a unique initiative by Partho Bhowmick, founder, Beyond Sight Foundation (BSF). An avid photographer himself, he holds photography workshops for the visually impaired and exhibits their work across India.
Patel was one of the eight participants at a workshop held last month, organised by BSF and Sightsavers, a charitable organisation. The enthusiastic bunch clicked each other, and other visually impaired people going about their day-to-day life in the city. The idea was to showcase a typical day, with its challenges, in the life of a visually impaired person in Mumbai.

A photo of blind commuters by Sandhya Umrannia
Picture perfect
Before photographing people, Patel speaks with his subjects, understands where they are standing or seated, and determines their height and build, among other things. "We're taught the basics about cameras, and how to shoot images based on our judgement. With every workshop, we understand our surroundings better," he says. For personal photos, the 26-year-old, who was born blind, shoots on an iPhone with the help of an in-built screen reader. It provides spoken feedback on what the camera lens sees. For instance, as Patel captured a few quick shots of us, the voice-over announced, "One large face, smiling". He is particularly fond of shooting landscapes though he has to rely on a sighted person to describe the scene to him.
Patel works as a software tester at BarrierBreak Solutions, a for-profit social enterprise that develops technology for the disabled. He first attended Bhowmick's workshop in 2010, while studying for a Bachelor of Arts degree at St Xavier's College. "That was the first time I heard that a visually impaired person can undertake photography. Before that, I hadn't even held a camera," he says. Patel was hooked right from the word go and has been dedicatedly developing his craft since. He enjoys the workshops because he gets to experience varied surroundings. The group travelled to Sanjay Gandhi National Park, Sir JJ School of Art and Kabootar Khana in Dadar, among other places, to learn outdoor photography. Snaps from the visit will be displayed at an exhibition, The Blind View, at Inorbit Mall, over the weekend. Games and interactive blindfolded activities to sensitise visitors will also be held.
The Blind View
Photographs clicked by the visually impaired will be on display on August 1 and 2.
Where: Inorbit Mall, Link Road, Malad (W)
When: 11am to 10pm
Call: 6677 7999

A photo of blind lawyer-solicitor Kanchan Pamnani by PatelA photo of visually impairedstudents performing Mallakhamb by Mahesh UmranniaA photo of Mahesh Umrannia playing the sitar; clicked by Harsh Vyas
Photo of visually impaired people selling books on the streets; clicked by Sandhaya Umrannia