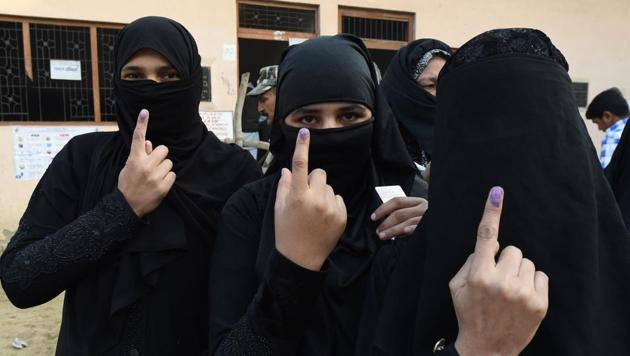 Muslims in Uttar Pradesh assembly down to 5.9%, from 17.1% in 2012
Muslim representation in India's most populous state of Uttar Pradesh has plummeted from 17.1% in 2012 to 5.9% following the 2017 assembly elections.
IndiaSpend | By Alison Saldanha
UPDATED ON APR 06, 2017 11:40 AM IST
With the 2017 Uttar Pradesh assembly elections, Muslim representation in India's most populous state has plummeted from 17.1% in 2012 to 5.9%.
This is equivalent to Muslim representation about a quarter of a century ago, in 1993, following the Babri Masjid riots of 1992 (5.9%) and less than two percentage points higher than recorded in 1991 (4.1%) – its lowest point – according to an IndiaSpend analysis of data from the Election Commission of India and The Hindu Centre for Politics and Public Policy (Gilles Verniers, Uttar Pradesh State Assembly Legislators' dataset), a think tank.
UP has 38.4 million Muslims–19.2% of its 200 million people – the most of any state and third, by proportion, after Assam and Kerala.
Of 24 Muslim members of legislative assembly (MLAs) who won in 2017, more than half, or 14, had won from the same constituencies before. A sixth of Muslim MLAs have represented their constituencies for the last 15 years at least. None are women (9.9% of new MLAs).
Source: Election Commission of India
The '-' sign in the 'MLA Since' column indicates the person was not an MLA between 1996 and 2017.
The constituencies of Muslim MLAs are largely located in the sub-regions of Rohilkhand and Upper Doab in Western UP and in the Poorvanchal region of eastern UP.
Muslim representation a third of what it should be
In the 2012 assembly elections, for the first time ever since Independence, Muslims achieved political representation (17.2%) almost proportional to their population (19.2%, according to the 2011 census).
Five years later, Muslim representation is a third of what it should be in proportion to population.
Muslim under-representation comes with the Bharatiya Janata Party (BJP)–the national ruling party–recording a sweeping victory across UP without fielding any Muslim candidate. The Muslim vote is a determining factor in 34 of 80 Lok Sabha constituencies, and in 130 of 403 assembly constituencies, according to political scientist Gilles Verniers in this 2014 report for The Hindu Centre For Politics and Public Policy, a think tank.
While the BJP's popularity, in terms of seats, has increased six-fold–from 47 seats of 403 in 2012 to 312 now–Muslim representation has dropped nearly 65%, from 68 seats in 2012 to 24 now, data from the Election Commission of India show.
Similar under-representation in the Lok Sabha
Muslims are underrepresented in the Lok Sabha as well.
For the first time since Independence, none of UP's 80 members of parliament is Muslim. "Many believe this is due to a spate of Hindu-Muslim riots, especially the Muzaffarnagar violence, which polarised both communities," said this 2014 Business Standard report.
Between 2010 and 2015, UP witnessed a five-fold increase in communal violence, and the polarisation was evident in village, towns and cities, IndiaSpend reported in February 2017.
The 2017 assembly results are reminiscent of the 1991 elections, when support for the BJP rose three times, as its tally rose from 57 seats in 1989 to 221 seats, and Muslim representation fell by more than half, from 8.9% to 4.1%, the lowest in post-colonial India.
There are three main reasons for low Muslim representation: Uneven geographic distribution across the state, "lost" seats due to reservations of constituencies for scheduled-caste candidates, and "vote-splitting", caused by multiple Muslim candidates contesting from the same constituency, according to the Verniers report.
Close