MP: Egyptian girls on a journey to discover heart of India
When this Egyptian girl saw Bhopal's vast Upper Lake for the first time, she was ecstatic.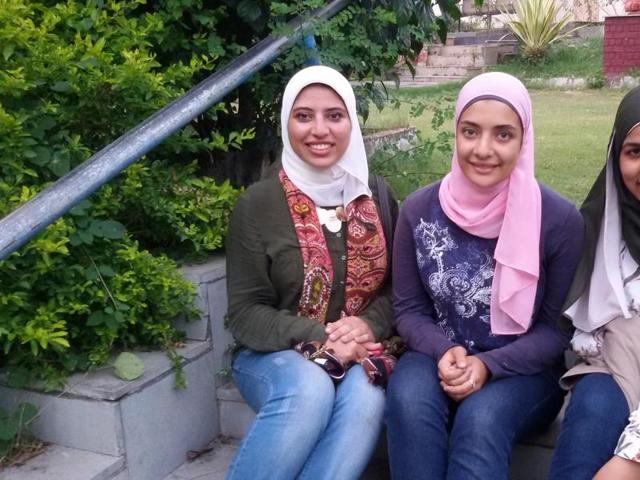 Published on Oct 12, 2015 06:51 PM IST
When this Egyptian girl saw Bhopal's vast Upper Lake for the first time, she was ecstatic.
Charmed by the vastness of the Upper Lake, Nourhan Bakweer, 19, a law student from Cairo University, uploaded a photo of herself jumping with joy in front of the lake as her Facebook profile picture.
Like Nourhan, for her fellow students from the university, Bassant El gazzar, 18, and Tasneem Kholousy, their six-week stay in Madhya Pradesh has been a journey of discovery of new cultures, traditions, customs and a journey of making new friends.
The three Egyptian girls, who are visiting India for the first time, have been teaching students at the Bhavans Prominent School in Indore.
The trio is in Madhya Pradesh for the past four weeks on AIESEC's global citizen programme, which helps in connecting students and fresh graduates to volunteer for projects across the world.
AIESEC is an international, not-for-profit, non-political organization run by students and fresh graduates across 124 countries.
The first thing El Gazzar noticed here was that people wear so many colorful clothes.
"When I saw women wearing saree for the first time, I was amazed. It is such a beautiful and graceful dress," she says.
"It is not just clothes, there is so much diversity in the culture and geography here. But one thing that was common is the warmth of the people. Wherever we went, people have been helpful.
"The students and youngsters gave us a lifetime of memories. Before we leave…we again want to have paani puri, poha and Bhopali paan".
Bakweer, who is crazy about Salman Khan, says: "I got a 30% discount on my transportation here because I'm a woman."
She says when they left Egypt, they were apprehensive whether they could gel with the people and the youngsters in India.
"…Everywhere you find them helping us...we feel like having become a part of one big family," she says.
Kholousy says they shared their experience while interacting with the students at the Indore school.
"We taught them the basics of English and Mathematics, told them about our culture, sang some Egyptian songs and listened to their experiences, stories and dreams…," she says. "Though would be leaving soon, we have made lifelong friends with whom we will remain in touch through social media."
Close Story