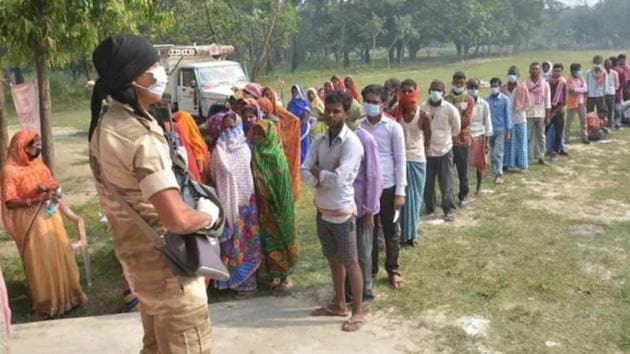 Bihar Election 2020: Result updates for Sandesh, Barhara Arrah, Agiaon, Tarari, Jagdishpur, Shahpur
Bihar Assembly Election 2020 results: Get results for Sandesh, Barhara, Arrah, Agiaon, Tarari, Jagdishpur and Shahpur seats under Arrah Lok Sabha constituency.
Hindustan Times, New Delhi | By hindustantimes.com| Edited by: Harshit Sabarwal
UPDATED ON NOV 11, 2020 06:42 AM IST
The Arrah Lok Sabha constituency has been the BJP's stronghold since the 2014 general election. It comprises seven Vidhan Sabha constituencies which saw voting in the Bihar Assembly Election 2020 in the first phase. All these constituencies from a total of 71 went into voting on October 28 amid the various restrictions placed by the Election Commission of India (ECI) due to the prevailing coronavirus disease (Covid-19) outbreak in the country.
The Grand alliance emerged victorious in five out of the total seven assembly seats. While the BJP managed to win two assembly seats
Here is a look at the performance of all the parties in these seven seats in Bihar Assembly Election 2020:
Sandesh assembly election 2020 result updates: Kiren Devi of the RJD won the Sandesh constituency while Vijayendra Yadav of the JD(U) secured the second position. The difference between Devi and Yadav was a massive 50,607 votes. Read more about Sandesh constituecy
Barhara assembly election 2020 result updates: Raghvendra Pratap Singh of the BJP emerged victorious and defeated RJD's Saroj Yadav by a margin of just 4,973 votes. In the earlier, trends Yadav was leading the Barhara constituency. Read more about Barhara constituency
Arrah assembly election 2020 result updates: Arrah witnessed a cut-throat competition between the CPI-ML and BJP. Quyamuddin Ansari of the CPI-ML was leading the constituency till evening and it seemed he would win.
But BJP's Amrendra Pratap Singh overtook Ansari and won Arrah constituency by a margin of just 3,002 votes.
Arrah has not been the stronghold of any political party till now. Read more about Arrah constituency
Agiaon assembly election 2020 result updates: Manoj Manzil of the CPI-ML won Agiaon while JD(U) leader Prabhunath Prasad retained the second spot. The difference between winner and runner-up was a massive 48,550 votes.
Agion among many other constituencies is reserved for Scheduled Castes (SCs). Read more about Agiaon constituency
Tarari assembly election 2020 result updates: Tarari is another constituency where the CPI-ML led throughout. Party leader Sudama Prasad who is also the sitting MLA won by a margin of 11,015 votes. The runner-up was Narendra Kumar Pandey who is an independent candidate. Read more about Tarari constituency
Jagdishpur assembly election 2020 result updates: Jagdishpur constituency saw a tough contest between the RJD and the LJP. RJD candidate Ram Vishnu Singh won by a margin of 22,107 votes while Shribhagwan Singh Kushwaha from Chirag Paswan's party became the runner up. Read more about Jagdishpur constituency
Shahpur assembly election 2020 result updates: RJD's Rahul Tiwary won the Shahpur constituency by a huge margin of 22,883 votes while independent candidate Shobha Devi came second. Read more about Shahpur constituency
The 243-member Bihar assembly went to polls in three phases, starting October 28 the first with 71 constituencies the second with 94 constituencies on November 3 and the third with 78 constituencies on November 7.
A majority of 122 seats is required to come in power for the next five years. This year's assembly election has seen better voter participation compared to the previous ones. All three phases recorded a voter turnout of over 55 per cent.
The exit polls, which have gone wrong in the past, showed that a majority of Bihar's population wants to see a change in governance with a hope that the new party - either individually or in an alliance, would address the relevant issues and improve further improve the political, economic and social environment in the state. Exit polls have projected that the Mahagathbandhan has an edge this time.
Close