Alia Bhatt's sister Shaheen says she has battled depression since age of 12, has been suicidal more than once
Shaheen Bhatt, Alia's sister and Mahesh Bhatt's daughter, opens up about her fight with depression and how not talking about it is not an option anymore.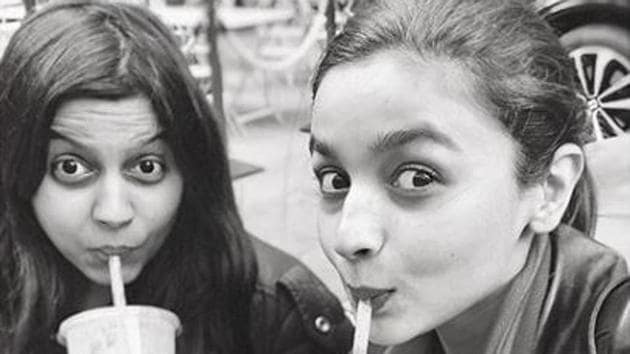 Updated on Jun 15, 2018 02:54 PM IST
Alia Bhatt, Mahesh Bhatt's talented daughter is the talk of the town, thanks to her recent successes at the box office. However, what many don't know is that his other daughter, 30-year-old Shaheen, has lived with and fought depression for the longest time. Sometimes, one wonders, if being a compassionate sister has helped turn Alia into such a fine actor.
But first Shaheen. In the wake of not one, but two high profile suicides in the last couple of days, mental health and depression are issues that cannot be ignored anymore. Writing in Vogue India, Shaheen has elaborately discussed her own battle against depression and what it takes to be on top of it.
She begins her piece about how she read the devastating news of Antony Bourdain's untimely death. She explains futher that when those tears rolled down her eyes, she wasn't simply mourning for Boundain and fashion designer Kate Spade (who too ended her life, aged 55) but Shaheen was crying for herself and how she too had, in the past, had come within spitting distance of ending her own life due to depression. The thought that it could have been her was totally unnerving.
"I was crying because every time I hear of someone who was unable to go on living with the darkness within them, I'm reminded of how that could have just as easily been me," she wrote in Vogue India.
She goes on to add how she had been suicidal on more than one occasion. "I've lived with depression since I was 12 years old and since then I've been suicidal on more than one occasion. I've experienced the sheer terror of contemplating a life filled with unrelenting anguish, and I've been consumed by the terrifying thought of having but a single means of escape from a bleak, unbearable future."
Shaheen goes on to say how she has lived with depression since she was 12 years old. She says how she has had problems even talking about it for option she would be accused of being too negative and over sharing and yet not talking about it is not an option today. She talks of how suicide is global problem of alarming dimensions and quotes WHO figures.
Shaheen's revelation of how fear gripped her when she realised that depression was getting at not just 20 and 30 years old, but people in the 60s is telling. She illustrates, giving an example from Bourdain's quotes, about how depression has no apparent reason.
Follow @htshowbiz for more
Close Story
Personalise your news feed. Follow trending topics