Amitabh Bachchan reveals how he 'threatened and negotiated' with pain to return to work, shares new pic from Chehre
Sharing a new silhouette of himself from Rumi Jaffrey's upcoming thriller Chehre, Amitabh Bachchan spoke about his fight with pain and more in his latest blog. Read it here.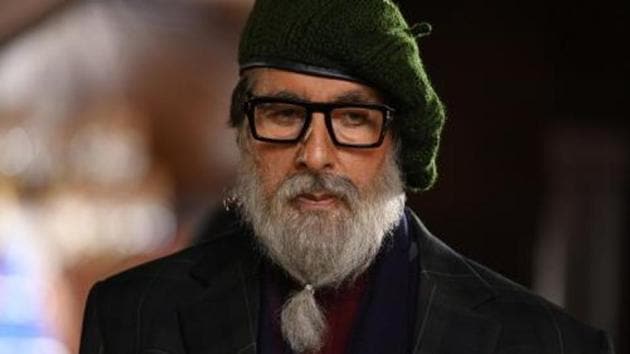 Updated on May 14, 2019 04:36 PM IST
Sharing a new silhouette of his character from the upcoming film Chehre, Bollywood actor Amitabh Bachchan has posted in detail how he overcome his pain to get back to work. Amitabh began shooting for Rumi Jaffrey's thriller with Emraan Hashmi last week. Earlier this month, he cancelled his weekly Sunday meeting with fans due to "illness and pain".
Also read: Salman Khan's Bharat to clash with India's first World Cup 2019 match, this is what the director has to say
Claiming to have "negotiated a treaty" with pain, Amitabh wrote on his blog early Tuesday, "look here Mr Pain, if you don't repair there shall be consequences where the repair shall shift to you .. I can do that .. please do not take it lightly and laugh it off .. I shall do it .. hehahaa .. there were some threatening murmurs .. but finally a treaty seemed to have been negotiated .. it has not seen the signing .. but I do believe a beginning has been made."
"Yes indeed .. time to depart for the long drive and prep for the scenes to follow for 'Chehre' .. The delay for the post is largely the responsibility of that determined intent to fix the pain through other means .. To face and challenge it .. give it competition .. give it an alternative .. start another front as in a War .. That is what was done .. it took time and effort, but I think until challenged it shall dominate .. domination is good from the good .. from the oppressor it needs equal and opposite oppression .. Which is what I did .. sat down in a calm resolve and talked to it in tones that it seemed to understand," he added.
Earlier this month, Amitabh had tweeted that he cancelled his weekly Sunday meeting with fans due to pain and illness. "..Not doing the Sunday Darshan today... In bed... Pain .. Inform all, nothing to worry, but unable to come out."
Amitabh Bachchan suffers from Hepatitis B, he had revealed at an event earlier, "Hepatitis B came to me accidentally. After my accident on the sets of Coolie, I was infused with the blood of about 200 donors and 60 bottles of blood were injected into my system. The Australian antigen Hepatitis B had only been detected three months ago and it was very new for being detected also among various tests needed to be carried out before giving blood to another patient. One of my blood donors was carrying Hepatitis B virus which went into my system. I continued to function normally till year 2000 and almost 18 years after the accident, during a very normal medical checkup, I was told that my liver was infected and I had lost 75 per cent of my liver. So, if I am standing here today, you are looking at a person who is surving with 25 per cent of liver. That is the bad part. The good part is you can survive even with 12%. But no one wants to get to that stage."
Amitabh and Emraan are coming together for the first time in Rumi Jaffrey's mystery thriller. Chehre is being produced by Anand Pandit Motion Pictures and Saraswati Entertainment Pvt Ltd. The film is scheduled to hit the screens on February 21, 2020.
Amitabh will also be seen in Ayan Mukherji's Brahmastra along with Ranbir Kapoor and Alia Bhatt. He will also feature in a bilingual project, titled Tera Yaar Hoon Main.
Follow @htshowbiz for more
Close Story