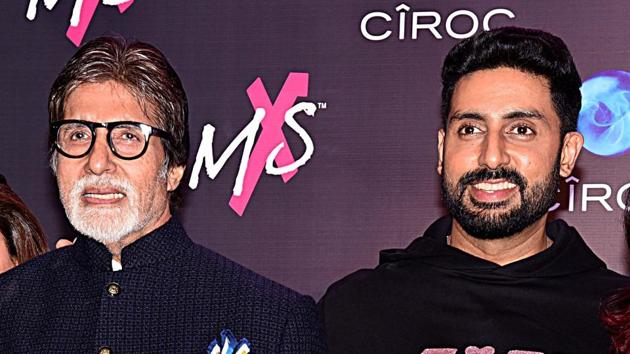 Amitabh Bachchan shares son Abhishek's childhood pic with a weird caption. Can you decipher it?
Amitabh Bachchan has shared a precious new pictures of his son Abhishek Bachchan on Instagram. But can you help us figure out what the caption means?
UPDATED ON OCT 03, 2018 05:13 PM IST
Amitabh Bachchan is so proud of kids, he shares a new throwback picture each week. The actor posted a cute picture of his son and actor Abhishek Bachchan on Instagram on Wednesday.
In the picture, Abhishek can be seen cracking a toothless smile and looking like another desi young boy on a photo day. However, it's not the picture but Amitabh's caption for the photo that is the most interesting thing about the post.
Amitabh captioned the photo "You look like sauce!!" Of course, the meaning of this caption is totally lost on us and even his followers. "Haha sauce? Why sauce and which one?," commented a follower. "What i this caption?," commented another.
Even Amitabh's daughter had not idea what it meant. "What do you mean? Sauce? Hahahahahah," she wrote and even clarified that she wasn't the one to write that comment.
Amitabh had recently shared a picture of Shweta and Abhishek as kids, enjoying ice cream together. "When daughter Shweta places her first book in your hands ; when she inaugurates her own clothing design brand; when son Abhishek moves you to tears by his brilliance in film 'Manmarzian' , you wonder as you see them and their innocence in this snapshot, did we ever conceive that they would one day make us proud as they have today," he captioned the picture.
Amitabh keeps his fans hooked and happy with adorable pictures of his family. Check out a few more:
Follow @htshowbiz for more

Close